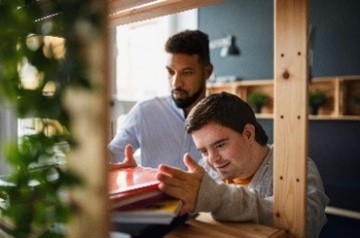 The Department of Labor is committed to protecting workers with disabilities and working across the federal government to advance competitive integrated employment for these workers. Though much of this work is conducted through our Office of Disability Employment Policy, this commitment is reflected throughout all of the department's subagencies in ways that are unique to their missions and the people they serve. 
New resources from the Wage and Hour Division to protect workers with disabilities 
For example, our Wage and Hour Division is creating new resources that help workers with disabilities understand their rights—a critical part of their mission to promote equity for underserved and marginalized groups across the country. These include:
A new Field Assistance Bulletin and fact sheets with guidance on requirements under Section 511 of the Rehabilitation Act and Section 14(c) of the Fair Labor Standards Act. Under the law, workers with disabilities who are paid a subminimum wage must receive information and resources that are crucial to enhancing access to competitive integrated employment. If workers do not receive this information and resources, they must be paid the full federal minimum wage. The guidance and fact sheets inform employers, workers, families and advocates of the timing requirements of Section 511, including the requirement that workers with disabilities receive critical resources and information prior to and throughout the duration of employment at subminimum wage.   
A webinar for employers, workers, families and advocates interested in understanding these protections. You can join our free Section 511/Section 14(c) webinar on July 20, 2022, from 1 to 2:30 p.m. EDT. Register here. 
Complying with Section 511 is the law — and we're enforcing it. 
The Wage and Hour Division is also committed to taking decisive action to ensure employers comply with critical worker protections under Section 511, including the documentation and timing of the required services. When those requirements are not met, we will seek payment of the full federal minimum wage for all affected workers. That's why we recently took action in Montana, in a case where the employer failed to pay the full federal minimum wage, despite the fact that workers had not received the required information and resources under Section 511. The Wage and Hour Division will continue to ensure these requirements are met in all investigations of employers that hold Section 14(c) certificates, and is committed to using all available tools to enforce the prohibitions against retaliation when workers exercise their rights; these are protections that safeguard the basic rights of workers. 
Advancing competitive integrated employment across the country 
Enforcement of Section 511 is only one dimension of the department's work to advance competitive integrated employment, however.  Since 2012, ODEP has worked directly with states and service providers on this issue, providing technical assistance to help them align funds and facilitate effective collaboration among key agencies serving people with disabilities. Key initiatives include the LEAD Center and the National Expansion of Employment Opportunities Network (NEON) and Advancing State Policy Integration for Recovery and Employment (ASPIRE) programs.   
ODEP also hosts a Community of Practice through which states can share effective policies and practices for supporting competitive integrated employment, and it recently hosted a second webinar on blending, braiding and sequencing funding and resources to help states and local agencies help people with disabilities enter high-quality jobs and careers. ODEP held the first webinar in March. 
A department — and administration — commitment 
Our work in this area aligns with the Biden-Harris administration's commitment to expand competitive integrated employment and ensure equitable and inclusive service delivery for all workers, including those from historically underserved communities. In fact, in July 2021, President Biden announced significant investments to expand competitive integrated employment for people with disabilities, and we have new resources planned for this month. Through both strong enforcement and technical assistance, we're pleased to play a critical role in delivering on this commitment and advancing equity for workers with disabilities.   
Kristin García is the chief of staff for the Department of Labor's Wage and Hour Division.
Anupa Iyer Geevarghese is the chief of staff for the Office of Disability Employment Policy.
Follow the Wage and Hour Division on Twitter at @WHD_DOL.