Transitioning from Active Duty? Consider Becoming an Apprentice!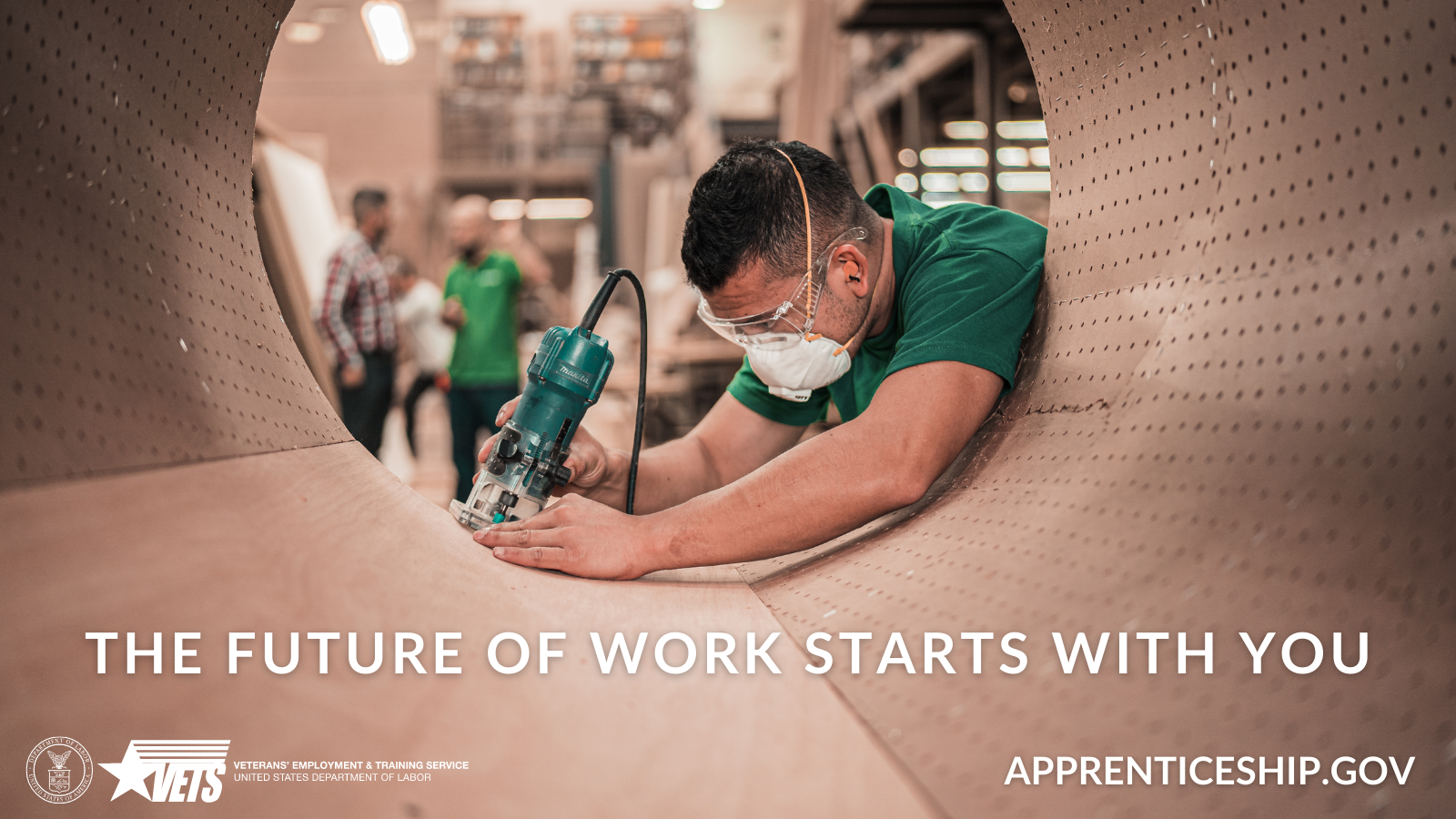 A pathway to a great career with competitive wages doesn't always have to include college. Many transitioning service members and veterans are unsure about their next career step. They consider college, but would rather enter the workforce to earn an income. They may want to transition into a career field different from their military occupation, but they don't have the credentials or experience that employers want. 
Apprenticeship may be the answer! 
Registered Apprenticeships are an earn-while-you-learn training model where apprentices gain relevant, paid workplace experience, classroom instruction, and nationally recognized credentials. These programs enable transitioning service members and veterans to gain civilian career experience and further develop the skills they learned during military service. 
Still unsure if an Apprenticeship is for you? Consider these statistics:  
The average salary of someone who completes a Registered Apprenticeship Program is $77,000 compared to $69,000 for those 25 and over with a bachelor's degree. 
93% of apprentices who complete the program are retained by an employer. 
Apprentice graduates earn $300,000 more over their lifetime compared to similar peers who don't complete an apprenticeship program.  
Many apprenticeship programs also allow participants to earn college credits, and programs extend far beyond just skilled trade occupations:  There are many apprenticeship opportunities in high-growth industry sectors, such as health care, transportation, IT, cybersecurity, advanced manufacturing, and energy.   
As an apprentice, you will work in an environment with a clear pathway for success and benefit from a mentor who can help ease your transition into a civilian career. You can also use your post-9/11 GI Bill benefits, which can provide a monthly housing allowance for Department of Veterans Affairs' approved apprenticeship programs. You may even be able to get credit for prior education and military service, which may shorten the duration of your program. 
How does a Registered Apprenticeship differ from an internship?  
Registered Apprenticeships are not internships. Apprentices are paid from day one and are at least a year long. Apprenticeships combine hands-on and classroom learning to ensure apprentices master industry-approved, on-the-job competencies. Apprentices earn a nationally recognized credential upon completion. Internships are typically shorter in length, not as structured and many are unpaid. Additionally, internships do not always include mentorship and may not lead to earning a credential or a full-time job. While both programs may lead to college credit, some apprenticeship programs can lead to a debt-free college degree. 
Does an apprenticeship sound like a good option for you? We're here to help! 
To learn more about apprenticeship go to www.Apprenticeship.gov. There you will find the Apprenticeship Job Finder tool to search for open apprenticeship jobs by location, industry, occupation or by name. It also has a Partner Finder tool to help locate apprenticeship programs by name, state, occupation and industry and allows for identifying additional apprenticeship stakeholders and partners. You can also connect with your local American Job Center to learn more about programs in your area. 
Carolyn Renick is the Apprenticeship, Licensing and Credentialing Lead for the Veterans' Employment and Training Service at the U.S. Department of Labor. Follow VETS on Twitter at @VETS_DOL.