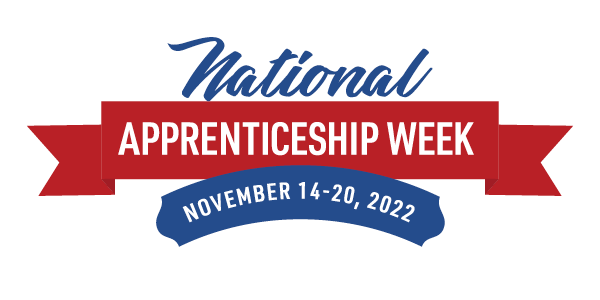 This year marks the 85th anniversary of the National Apprenticeship Act, also known as the "Fitzgerald Act," which established the Registered Apprenticeship system as we know it today. While this served as a cornerstone for this gold standard of work-based learning, we've also seen the apprenticeship system continue to evolve, expand and diversify.  
This year is an important milestone, and we lookforward to celebrating the value of Registered Apprenticeship for industries, career seekers and communities during the 8th Annual National Apprenticeship Week held November 14-20, 2022.  
In advance of NAW, the Office of Apprenticeship launched the ApprenticeshipUSA brand and hosted a national online public dialogue to discuss the future of Registered Apprenticeship. We also announced the first cohort of Apprenticeship Ambassadors and we're in the midst of a 120-Day Cybersecurity Apprenticeship Sprint. 
Over 800,000 registered apprentices are served annually in industries including cybersecurity, clean energy, education, healthcare, and transportation. In the past five years, we have worked with states and other partners to create more than 14,700 programs to provide opportunities for employers to develop and prepare their future workforce and offer paid work experience, progressive wage increases, classroom instruction, and a portable, nationally recognized credential for apprentices.   
As we turn towards the future of Registered Apprenticeship, we have an obligation to ensure that these opportunities for good quality jobs and high-growth career pathway are fully available for traditionally underrepresented populations. 
What to Look for during NAW: 
This year we expect NAW to be bigger than ever, with over 1,000 events and hundreds of proclamations across the country extolling the value of Registered Apprenticeship. W e will highlight the following key themes: 
Monday, Nov. 14: Registered Apprenticeship in New and Emerging Industries 

Tuesday, Nov. 15: Pre-Apprenticeship and Youth Apprenticeship 

Wednesday, Nov. 16: Expanding Registered Apprenticeship to Underserved Populations 

Thursday, Nov. 17: Women in Apprenticeship 

Friday, Nov. 18: Public Service Apprenticeships and Veterans in Apprenticeship 
Join us in celebration of 85 years of Registered Apprenticeship and National Apprenticeship Week by hosting or attending an event! Or, submit a proclamation to declare the week as National Apprenticeship Week  and show that your city, state or organization recognizes the value of Registered Apprenticeship.  
If you're interested in learning more about NAW, we invite you to join our webinar on Tuesday, October 4 to get ideas and tips for how to celebrate.  
Help us make this the best National Apprenticeship Week yet, and remember to tag us on social media with #NAW2022 and #ApprenticeshipUSA.  
John Ladd is the administrator of the department's Office of Apprenticeship.