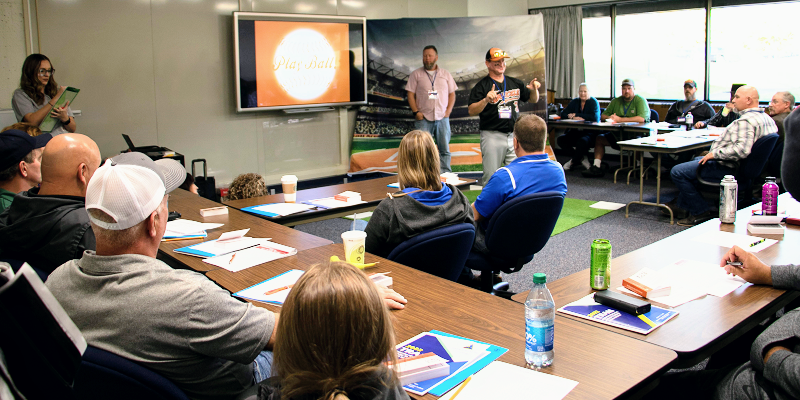 This week we are welcoming hundreds of safety experts from mines across the country to TRAM at the National Mine Health and Safety Academy in Beaver, West Virginia. TRAM – or Training Resources Applied to Mining – is an annual tuition-free conference that provides opportunities for health and safety trainers to improve their skills and infuse their training programs with new ideas and materials.
The theme for TRAM 2022 is "Game On! Game Changing Training." The workshops cover a wide variety of topics pertinent to both metal/nonmetal and coal mine trainers, and this year's sessions will encompass everything from the gamification of training to innovative training design and delivery. For example, there are workshops on incorporating virtual reality and other modern technologies into safety and health trainings. Vendor exhibits this week are showcasing innovative health and safety products, such as communication and tracking systems, mining proximity detection systems, training materials, and more.
TRAM has been an important part of the mine safety and health training landscape since shortly after the passing of the Federal Coal Mine Health and Safety Act of 1969. Mine safety improved significantly in the years that followed, not only because of the laws and regulations that were passed, but also because of the efforts of industry and changing mining practices. As a result, production levels in mining increased exponentially, in turn causing a boom in employment in mines nationwide.
It was in this context that Pennsylvania State University first sponsored a similar conference in March 1972, and in 1996, TRAM moved to the Mine Academy because of the availability of classrooms, hands-on laboratories, housing and a cafeteria.
The venue, structure, and resources have been fine-tuned to match the needs of attendees and mine industry issues over the past 50 years. But one thing remains unchanged: the resolve of safety trainers from all disciplines to collaborate to preserve the lives and health of America's miners. 
Find information on this year's TRAM conference here. For more training and education resources, visit MSHA's website.
Angela Blair works at the Mine Health and Safety Academy in Beaver, West Virginia.