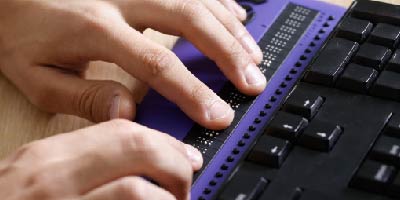 Every October, countless federal and private organizations acknowledge and celebrate National Disability Employment Awareness Month. NDEAM was created to celebrate the many and varied contributions of America's workers with disabilities and to promote inclusive workplaces. During the month, many employers and advocates take advantage of the opportunity to educate the general public on the issues that workers with disabilities face and how employers can be more inclusive in their hiring practices.
With the uptick in information and communication technology, coupled with the immense amounts of information shared across multiple technology platforms, people with disabilities face obstacles and opportunities when obtaining and retaining employment. Every day, millions of workers sit at their desks, pointing, clicking, dragging, dropping, hovering, redragging, reorganizing, and interacting with websites, applications, graphics, charts, objects and spreadsheets—sharing, editing, tracking, changing and deploying content for the public to consume.
But without essential accessibility features, the tech you use risks excluding people with disabilities. For example, what if your meeting platform does not support live captions? Captions are a useful accessibility feature for many people, including people with cognitive disabilities and people who are deaf or hard-of-hearing. What if a meeting platform doesn't work with speech-to-text software? This is an important accessibility feature for many people, including people with physical or dexterity-related disabilities. People with disabilities have tremendous skills and talents to bring to the workplace, as long as the tools they need are accessible.
Here are four questions employers can consider when making a more inclusive work environment for people with disabilities
Is your organization using accessible technology?
Accessible technology – such as magnifiers or screen-reading software – can help people with disabilities accomplish their jobs. It includes technology that has built-in accessibility features and tools that are interoperable with assistive technologies. The Partnership on Employment and Accessible Technology offers guidance on accessible telework tools, inclusive extended reality technologies, equitable artificial intelligence and more.
Is the employee's assistive technology up to date?
Assistive Technology is third-party software/services that enhance accessibility. If assistive technology is not kept up to date, people with disabilities will not be able to take advantage of some of the mainstream technology advancements that companies offer to everyone who uses their applications. Read some workplace technology recommendations from the American Foundation for the Blind.  
Is the content that people with disabilities are expected to interact with accessible when using assistive technology?
In short, if the employee's assistive technology is up to date, and they are still struggling to interact with a website, document or application, chances are this content may not be compliant with Section 508 Guidelines. Section 508 is the federal law that strives to ensure that federal employees who are disabled can access the same information on an equal footing with their non-disabled peers – but it provides a good benchmark for private sector workplaces as well. Find guidance, tools and resources related to Section 508 and accessibility.
Have my staff been trained on accommodating their disabled peers?
These trainings do not have to be weighty or intensive slide decks presented with lectures wrought with difficult and dry terminology and abstract examples. Consider hosting practical accessibility trainings, such as how to use MS Office Accessibility Checker on documents, presentations and spreadsheets. Activities like this can help boost your staff's knowledge and make your content more accessible for disabled employees and customers.
Answering these questions can position employers to create a welcoming environment where everyone can thrive on the job.
Larry Lewis is a senior lead technologist in the Department of Labor's Office of the Chief Information Officer.