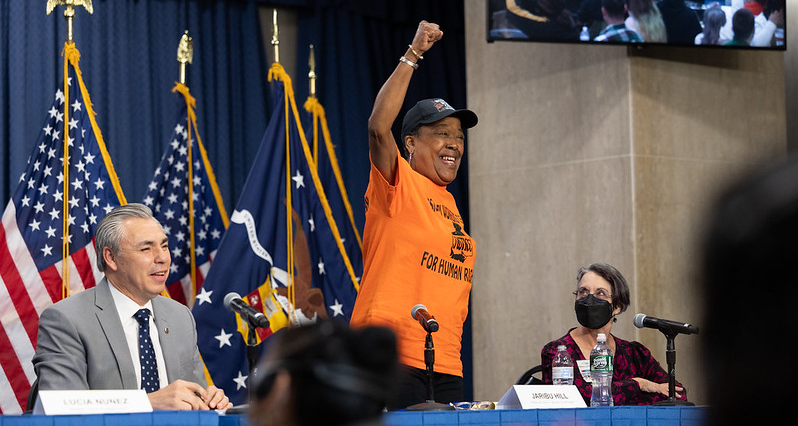 In September, the U.S. Department of Labor's Occupational Safety and Health Administration joined workers, worker advocates and labor organizers from various industries at our Workers' Voice Summit to discuss the value of building relationships and collaborating on ideas to address workers' concerns.  
The three-day summit Sept. 27-29 focused on issues affecting workers and the need to foster open dialogue to find solutions. The event was available to participants in three languages – English, Spanish and Portuguese – and included discussions on the benefits of advancing equity and making the department more accessible to underserved workers and their advocates.  
For more than two years, underserved workers across the country have been devastated by the COVID-19 pandemic, leaving many feeling abandoned and marginalized. Many of the most heavily affected are people of color – specifically Black and Hispanic workers – who have been disproportionately impacted by injuries and illnesses while on the job. Too often, Black and Hispanic workers are assigned to the hardest, dirtiest and most hazardous tasks in industries like agriculture, construction and warehousing.  
Data show that while people of Hispanic or Latino ethnicity made up 18% of the labor force in 2020, they accounted for 22% of workers who died on the job, with most fatalities in the construction, agriculture and transportation industries.  
During the summit, we were able to engage directly with workers to make sure their voices were heard by government leaders.  
Many workers who attended the summit expressed positive feedback.  
Maurice Womack with Maryland's Amalgamated Transit Union Local 689 said, "I was able to gain some faith that OSHA is an organization that cares and not just an acronym, and can positively affect change on safety and health in the workplace." 
Mayra Rivera with the Women of Steel Local 8198 in Ponce, Puerto Rico, said she felt more empowered and learned a lot from all the workshops. When Hurricane Maria devastated Puerto Rico in 2017, including Mayra's family farm, she started an alliance with community leaders to bring supplies, support and hazard education training to the island. Mayra said the most important thing is that workers know their rights and have more information about health and safety. 
"It was incredible being able to conduct much needed conversations and discussions and build true relationships for one common good," added Isaiah Withers with the National Black Worker Center in Raleigh, North Carolina.
We have a lot of work to do, but our first Workers' Voice Summit was an important effort to show the Labor Department's commitment to ensuring health and safety for every worker. OSHA is committed to continue this dialogue with stakeholders to better understand how we can make resources more accessible; equip workers with proper tools, knowledge and training; and ensure effective enforcement. With the right resources and support, workers can raise their voices with confidence and trust OSHA will have their backs.
OSHA collaborated with leaders from the department's Office of the Assistant Secretary for Policy, Bureau of International Labor Affairs, Office of Public Engagement, Wage and Hour Division, Office of the Solicitor, and Women's Bureau for the event. In addition, federal partners from the Equal Employment Opportunity Commission and National Labor Relations Board spoke at the summit.  
Learn how OSHA protects you, and what to do if you think you are not protected at work. To discuss a health and safety issue at work, call 1-800-321-6742 (OSHA) or contact OSHA by email.  
Natalicia Tracy is a senior policy advisor for the Occupational Safety and Health Administration. Follow OSHA on Twitter at @OSHA_DOL.