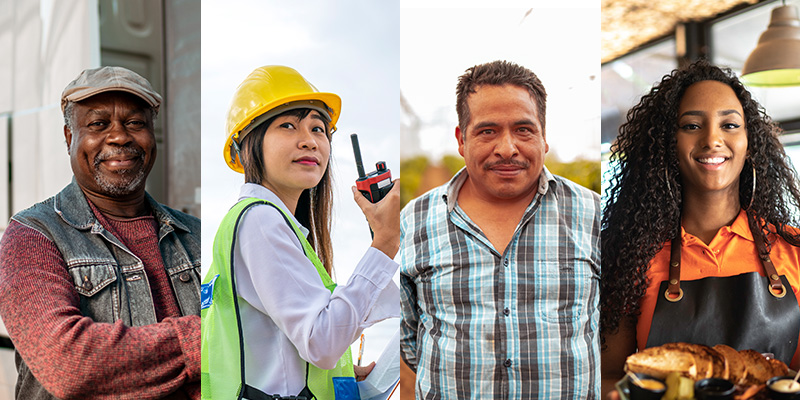 We've shared a lot of stories over the past year on our blog. As 2022 draws to a close, check out some of our most popular posts: 
As part of efforts to create an economy that works for everyone, President Biden raised the minimum wage for federal contract workers to $15 per hour. Our Wage and Hour Division issued a rule implementing his order that helps ensure continued fair wages for workers on federal contracts and the economic security of thousands of families.
Our Women's Bureau collaborated with the U.S. Census Bureau to conduct what is currently the most comprehensive analysis of the gender wage gap to date. What did we learn? The total costs of that gap are huge.
Trenching continues to be a leading cause of death in the construction industry. In response, the Occupational Safety and Health Administration is stepping up inspections and getting the word out to workers and employers on safety best practices. 
Diego Jimenez suspected his pay was incorrect but initially hesitated to reach out for help. As it turned out, a single call made all the difference. We were ultimately able to recover a total of $1,266,997 for him and 148 other low-wage workers.
From recovering stolen wages to promoting job training in high-growth fields, the work we do at the U.S. Department of Labor makes a difference. Our virtual job fair in June helped connect workers with exciting opportunities. And there's even more good news: We're still hiring!
We're committed to protecting the life savings of America's workers and their families. That's why, in response to the decision by some financial services firms to market investments in cryptocurrencies as investment options for 401(k)s, we've urged retirement plan fiduciaries to exercise extreme care.
Did you know that being represented by a union reduces women's wage gap by nearly 40%? Women's Bureau Director Wendy Chun-Hoon and AFL-CIO President Liz Shuler share the tangible benefits of collective bargaining for women.
What's up next for us in 2023? Subscribe to our weekly newsletter, and follow us on Twitter, Instagram, Facebook, LinkedIn and YouTube to keep up with our news and resources.