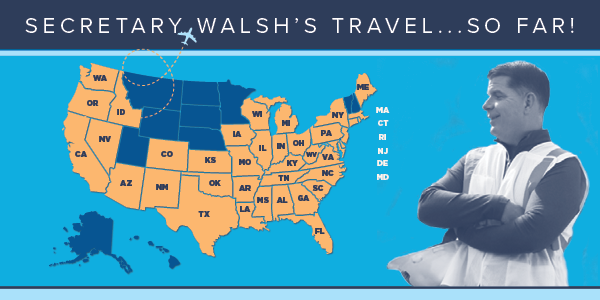 Working on behalf of working people means meeting workers where they are.  
One of my favorite parts about serving as your secretary of labor is traveling across the nation and speaking with workers. So far, I've traveled to 39 states to hear from America's working people on what they need, successes they've had and how the Biden-Harris administration can support them.  
We reached back out to a few workers I met during my travels this year and asked them to share their stories. Below are some highlights:
---
The trucking industry plays a vital role in the U.S. supply chain, but longstanding recruitment and retention challenges in its workforce have made it harder to meet today's historic demands on the trucking industry. Our department is working to change that. We caught up with Todd Ellis, a member of Teamsters Local 848 and a port driver in Long Beach, California, to ask him more about his job and how we can support drivers like him.
---
I met Kenneth Stribling in Cleveland, Ohio, after joining President Joe Biden for the announcement of the final rule implementing the American Rescue Plan's Special Financial Assistance program for multi-employer pensions.  We caught up with Kenneth, president of the National United Committee to Protect Pensions, to share how the program will benefit him and his family.
---
I met Carlos Morales during a trip to California and he shared his experience as an industrial maintenance electrician apprentice. We asked Carlos more about his path from warehouse worker – earning barely enough to pay the bills – to a thriving apprentice with a bright future ahead.
---
As part of our continued efforts to support America's workforce through career and skills development programs, I visited STRIVE, a national workforce development organization that receives funding from the Labor Department. We recently spoke to Brianna, a graduate of STRIVE Future Leaders program, about how the program helps young people like her achieve their career goals.
---
RecycleForce is another Department of Labor grantee committed to reducing crime through employment and job training, while improving the environment through electronic recycling. Since 2006, RecycleForce has safely recycled more than 65 million pounds of electronic waste and provided job training to thousands of citizens returning to their communities from the justice system. After my visit to RecycleForce in October, we asked founder Gregg Keesling to share more about RecycleForce's work and impact.
Marty Walsh is the U.S. secretary of labor. Follow him on Twitter and Instagram at @SecMartyWalsh.