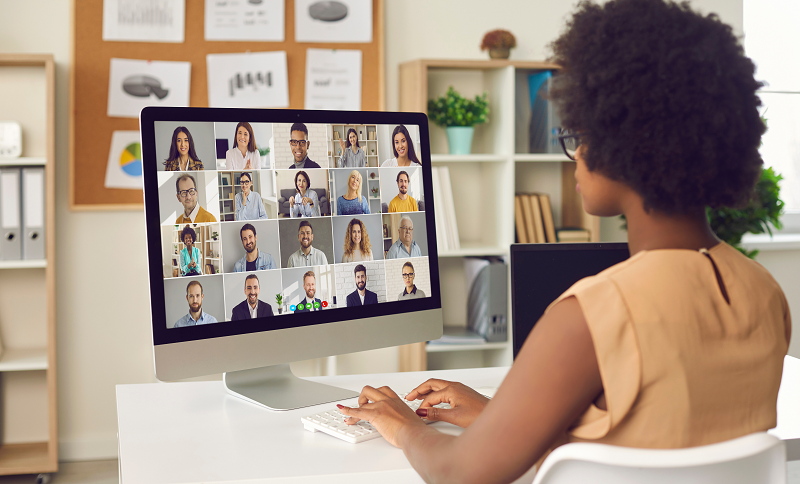 The COVID-19 pandemic put every workplace to the test – the Department of Labor included. At the Office of the Chief Information Officer (OCIO), we had to be ready to transition the majority of staff to telework so the department could keep serving America's workers, job seekers and retirees. This meant providing solid digital infrastructure and agile technical support for more than 15,000 employees.
A majority of Department of Labor employees are now working in a hybrid role, meaning there is a mix of remote and on-site teams. We understand that as work changes for the public and our own staff, so too does IT support. 
In OCIO, we're constantly evaluating and adapting which tools and strategies best support the department's mission and output. We've taken these three points into consideration to address the technical needs of effective hybrid work: 
1. Equipment
OCIO collaborates with agencies on their need for tools like printers, phones, virtual desktop infrastructure and software for initiatives like a contact center solution. These evaluations help provide staff and workplaces with the right technical equipment to complete their tasks successfully and efficiently, regardless of physical work location. 
2. Infrastructure
OCIO reviews its IT infrastructure and how it can best serve both the Department of Labor's remote and on-site workers. For example, we use strategies like "dual tunneling," which balances internet traffic between encrypted VPN and direct access to ensure its network is not overwhelmed by the increase in offsite users. Additionally, we're collaborating with each of the department's agencies to adjust network capacity based on remote work needs, in order to maintain flexibility and accommodate sudden changes.  
3. Customized needs
The Department of Labor is committed to creating accessible on-site, remote and hybrid work environments. To accomplish this, OCIO has been coordinating with the department's Civil Rights Center – which helps promote workplace justice and equal opportunity for both staff and members of the public who encounter Department of Labor programs or activities. By improving reasonable IT accommodations and accessibility tools and resources we can help remove barriers to work and ensure equal opportunity for all.   
As the IT hub for the Department of Labor, the Office of the Chief Information Officer is committed to improving technology solutions for those inside and outside of the department that meet the evolving nature of work. The department has taken lessons from past successes adapting technology and virtual infrastructure to support staff members and agencies as work changes. We can use these lessons as a framework to continue innovating to meet the evolving future of work, and support Department of Labor staff and America's workers, job seekers and retirees. 
Thomas Flagg is the director of information technology operations and services at the U.S. Department of Labor. Follow OCIO on Twitter and LinkedIn.