Since the start of the COVID-19 pandemic, public demand for information about the Department of Labor's critical services has skyrocketed. 
With modernized infrastructure already in place, our Office of the Chief Information Officer swiftly responded to meet the new technology challenges. OCIO provided agile department-wide technical support for 27 agencies to ensure uninterrupted delivery and continuity of services to American workers, retirees and job seekers.
Fortunately, our department was ahead of the curve in preparing our workforce and infrastructure for virtual work. Before last March, we invested in a series of significant long-term upgrades to our digital infrastructure. These updates included: 
Migrating 30+ applications to the cloud for increased security and access 

Implementing network upgrades and Wi-Fi across 200 offices 

Optimizing the virtual private network for faster routing and connections 

Maturing our Security Operations Center from 9-5 coverage to 24/7 comprehensive monitoring 

Enabling virtual collaborative workspaces, to include virtual meeting capabilities  

Implementing identity access management tools including simplified sign-on and multi-factor authentication 

Instituting digital signature capabilities on devices 

Consolidating 73 data centers to provide state-of-the-art protection against hazards including fire, flood, unauthorized personnel breach and power failures 
Ultimately, these long-term technological investments allowed OCIO to hit the ground running when it mattered most, enabling a smooth transition to virtual telework and allowing OCIO to carry out all of our critical functions. Among our improvements, we: 
Improved virtual infrastructure 
Effectively routed and utilized split-tunneling to expand the department's Virtual Private Network (VPN) to speed access to mission applications  

Handled an influx of website traffic on our dol.gov site for critical public services without latency (247 million site sessions) 

Improved productivity through the use of cloud-based storage for information sharing  
Expanded virtual capabilities  
Enabled virtual on and off boarding of about 1,500 staff between March 2020 and January 2021  

Scaled an enterprise wide collaboration meeting tool for internal/external use   

Created a telework resource guide to address all aspects of technology needs while working remotely and intranet page with tools and resources  

Implemented digital signatures on all laptops to facilitate paperless processing  
Supporting pandemic services  
Developed the new Unemployment Insurance Database Management System to help state governments oversee and report on unemployment insurance operations  

Helped the Office of Administrative Law Judges move their hearings from the courtroom to a secure online forum, making it possible to conduct administrative law business virtually  

Developed a web-based system to allow judges and legal staff to digitally file and serve case documents, providing enhanced security for 70,000 external case filers 

Implemented a data hub for real-time information sharing across government to reduce processing time for temporary work visa digital certifications for seasonal workers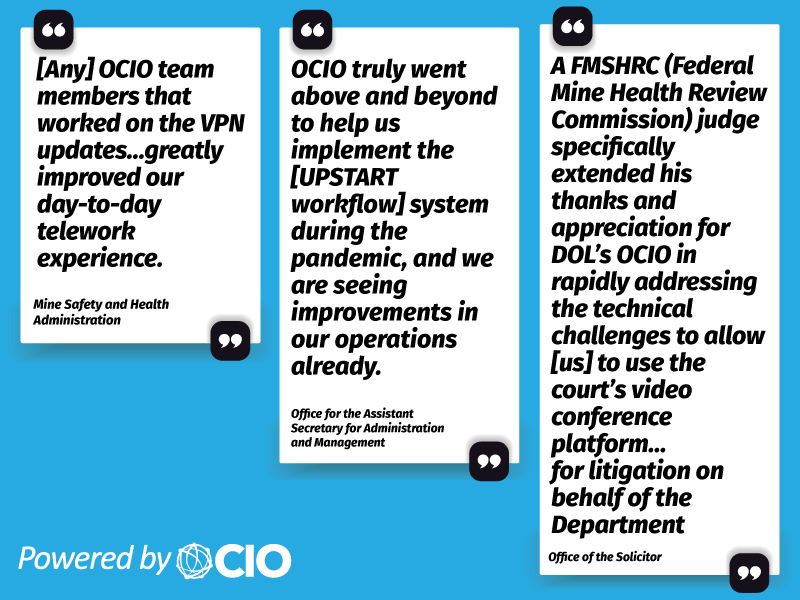 Our strategic pre-pandemic investments in IT modernization helped us continue our important work without interruption, and these efforts contributed to OCIO receiving best-in-class FITARA grades. Since the 2014 passage of the Federal IT Acquisition Reform Act (FITARA), the House Committee on Oversight and Reform commissions two scorecards each year to measure agency progress across multiple IT benchmarks. In FITARA 11.0, released December 2020, the Department of Labor was the only federal agency, out of 24 scored, that was awarded an A in seven of eight categories. We were also one of only six agencies with a B or higher in the cybersecurity category.
These scores and our pandemic response reflect our commitment to providing premier technology solutions — the best in federal service — that enable the department to serve the American public. Visit OCIO's website to discover more ways we power the department, providing enterprisewide services in support of the American public. 
Gundeep Ahluwalia is the chief information officer of the U.S. Department of Labor. Follow OCIO on Twitter and LinkedIn.