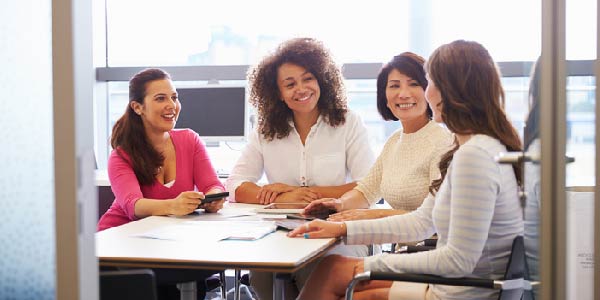 En Español
Equity at work is about justice, fairness and living up to the values of our nation. In 1963, when the Equal Pay Act became law in the United States, women working full-time, year-round made 59 cents on average for every dollar earned by men. Today, that gap has shrunk, and women make 84 cents on the dollar. That's progress, but it's not enough.
The wage gap for many women of color is much larger.  We know that Black women, for example, lose around $3.9 billion dollars each year due to wages lost while on leave. Families where women are the primary breadwinners are disproportionately impacted when women's work is undervalued. And there are so many benefits to eliminating wage gaps: Equity means greater equality in opportunities, more widespread protection against economic shocks, and a more inclusive, resilient economy generally.
And true workplace equity involves more than just fair pay. It's about making sure everyone benefits from the laws and policies that protect workers. It means making sure all people can access the services they're entitled to and ensuring that everyone can get good jobs.
We're proud to support policies and programs that advance the interests of working women and their families. Here are a few ways the U.S. Department of Labor is embracing equity at work.
Gathering Data to Make Smarter Decisions
In 2020, our Women's Bureau worked with the U.S. Census Bureau to conduct a comprehensive analysis of the gender wage gap. Among other things, the data showed that outdated attitudes toward "women's work" and "men's work" result in certain occupations being undervalued and undercompensated – and that women are often paid less on average than men in the same job.
More recently, we released the National Database of Childcare Prices, which shows that childcare is so expensive, relative to family income, that it prices many families out of paid childcare – and that mothers' employment drops in areas with more expensive childcare.  
And in 2022, our Office of Disability Employment Policy produced an accessible, interactive map that allows users to explore disability employment statistics on median annual earnings by state and sex for people with disabilities. The data show that, across states, women with disabilities have lower median wages than disabled men.
We've also funded research to help us better understand the impact of our work and create more equitable programs and policies.
By gathering this data and making it publicly available, we're not just improving the quality of our own work, we're helping policymakers make informed decisions around the country.
Creating More Equitable Pathways to Good Jobs
Historic federal investments through the Bipartisan Infrastructure Law, Inflation Reduction Act and the CHIPS and Science Act are already creating opportunities in communities across the nation. At the Labor Department, we're committed to centering equity while federal agencies implement these investments to expand and improve pathways to these opportunities so that all of America's workers can reap the benefits of the Biden-Harris administration's efforts.
This year, our Office of Federal Contract Compliance Programs will launch a Mega Construction Project Program to foster equal opportunity in the construction trades workforces of contractors and subcontractors on large, federally funded construction projects.
Through our Good Jobs Initiative, we're forging partnerships to ensure federal dollars are invested in the creation of good-paying jobs that will support women and other historically underrepresented groups.
Protecting Women's Rights at Work
We've been raising awareness of gender-based violence and harassment in the world of work and ensuring that survivors' voices are lifted up in the public policy process. In the trucking industry, for example, we've secured commitments from numerous industry stakeholders and advocated for changes that would increase safety for women truckers.
The Women's Bureau's Fostering Access, Rights, and Equity (FARE) Grant Program helps women workers who are paid low wages learn about and access their employment rights and benefits. Our grantees conduct outreach, share educational materials, assist women with navigating benefits, and encourage women to become focal points for rights, benefits, and assistance in their own communities.
The Wage and Hour Division's Essential Workers, Essential Protections initiative has focused on outreach to workers who perform essential work, especially targeting low-paid workers, women, immigrants and workers of color. 
Investing in Women Workers
Our Women in Apprenticeship & Nontraditional Occupations (WANTO) grant program is strengthening the pipeline to good jobs by investing in pre-apprenticeship programs and other training efforts which can connect historically underserved populations to lucrative careers.
Our Bureau of International Labor Affairs has issued several grants to help improve working conditions for marginalized women in other countries, including by providing skills-based training for women, empowering women to gain representation in union leadership, combating gender-based violence and harassment, and creating more opportunities for women's economic participation.
These are just a few of the efforts we're excited to be working on. Our goal, as always, remains to improve the lives of America's workers, job seekers and retirees, and create a more resilient, equitable economy.
Learn more about our efforts to improve working conditions and economic opportunities for all workers by improving the well-being of underserved, marginalized and excluded communities.
Alaysia Hackett is the chief diversity and equity officer for the U.S. Department of Labor.
Brechas salariales, Equidad y Crecimiento Económico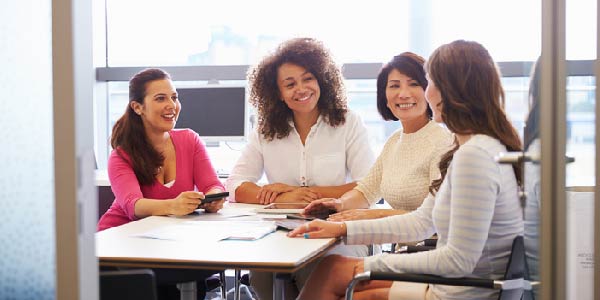 La equidad en el trabajo es una cuestión de justicia, ecuanimidad y de estar a la altura de los valores de nuestra nación. En 1963, cuando llegó la Ley de Igualdad Salarial en Estados Unidos, mujeres trabajando todo el año a tiempo completo ganaban en promedio 59 centavos por cada dólar que ganaban los hombres. Hoy esa brecha se ha reducido y las mujeres ganan 84 centavos por dólar. Eso es progreso, pero no es suficiente.
La brecha salarial para muchas mujeres de color es mucho mayor. Sabemos que mujeres Negras, por ejemplo, pierden cada año unos $3.9 billones de dólares en salarios no pagados debido a ausencias laborales. Sabemos que familias donde las mujeres son el principal sustento se ven afectadas de manera desproporcionada al subestimarse el trabajo de la mujer. Y hay muchos beneficios resultantes de la eliminación las brechas salariales: la equidad significa una mayor igualdad de oportunidades, una más amplia protección contra golpes económicos, y en general una economía más inclusiva y resistente.
La verdadera equidad en el trabajo implica más que un pago justo. Se trata de asegurarse de que todos se beneficien de las leyes y políticas que protegen a los trabajadores. Significa asegurarse que todas puedan acceder a los servicios a los que tienen derecho y garantizar que todas puedan conseguir buenos trabajos.
Estamos orgullosos de apoyar políticas y programas que promueven los intereses de las mujeres trabajadoras y de sus familias. Estas son algunas formas en las que el Departamento de Trabajo de EE.UU. está acogiendo la equidad en el trabajo:
Recopilación de Datos para Tomar Decisiones Más Inteligentes
En el 2020 nuestra Oficina de la Mujer trabajó con el Censo de EE.UU. para realizar un análisis integral de la brecha salarial por género. Entre otras cosas, los datos mostraron que actitudes pasadas respecto al "trabajo de mujeres" frente al "trabajo de hombres" resultan en que ciertas ocupaciones sean infravaloradas y menos pagadas, y que a las mujeres a menudo se les paga en promedio menos que a los hombres por el mismo trabajo.
Más recientemente publicamos la Base Nacional de Datos de Precios de Cuidado Infantil, que muestra que el cuidado infantil es tan caro en relación con los ingresos familiares que lo hace inaccesible para muchas. La base también muestra que el empleo de madres disminuye allí donde el cuidado infantil es más costoso.
En el 2022, nuestra Oficina de Políticas de Empleo para Personas con Discapacidad produjo un mapa interactivo accesible que permite a los usuarios explorar estadísticas de empleo para personas con discapacidad e ingresos anuales promedio por estado y sexo para personas con discapacidad. Los datos muestran que en todos los estados las mujeres con discapacidad tienen salarios promedio más bajos que los de los hombres con discapacidad.
También hemos financiado investigaciones que nos ayudan a entender mejor el impacto de nuestro trabajo y crear programas y políticas más equitativos.
Al recopilar estos datos y ponerlos a disposición del público, no sólo estamos mejorando la calidad de nuestro propio trabajo, sino que estamos ayudando a los legisladores en todo el país a tomar decisiones informadas.
Creando Caminos Más Equitativos Hacia Buenos Trabajos
Históricas inversiones federales producto de la Ley Bipartidista de Infraestructura, la Ley de Reducción de la Inflación y la Ley CHIPS y Ciencia  ya están creando oportunidades por todo el país. En el Departamento de Trabajo estamos comprometidos a centralizar el concepto de equidad mientras las agencias federales implementan estas inversiones para expandir y mejorar caminos hacia estas oportunidades para que todos los trabajadores estadounidenses puedan cosechar los beneficios de los esfuerzos de la administración Biden-Harris.
Este año, nuestra Oficina de Programas de Cumplimiento de Contratos Federales lanzará un Programa de Megaproyectos de Construcción para fomentar la igualdad de oportunidades en la fuerza laboral de contratistas y subcontratistas de oficios de la construcción en grandes proyectos financiados con fondos federales.
A través de nuestra Good Jobs Initiative estamos forjando asociaciones para garantizar que los dólares federales se inviertan en crear empleos bien pagados que apoyen a mujeres y otros grupos históricamente subrepresentados.
Protegiendo los Derechos de la Mujer en el Trabajo
Hemos estado fomentando la concientización sobre la violencia y el acoso de género en el mundo del trabajo y asegurando que las voces de los afectados se escuchen en el proceso de conformación de políticas. Por ejemplo, en la industria del transporte en camiones hemos logrado compromisos de numerosas partes interesadas de la industria y defendido cambios que incrementarán la seguridad para mujeres camioneras.
El Programa de Subvenciones Fomentar Acceso, Derechos y Equidad (FARE) de la Oficina de la Mujer ayuda a que las trabajadoras que reciben bajos salarios conozcan y accedan a sus derechos y beneficios laborales. Nuestros receptores de fondos hacen actividades de divulgación, comparten materiales educativos, ayudan a mujeres a consultar los beneficios, y las alientan a que se conviertan en puntos focales sobre derechos, beneficios y asistencia en sus propias comunidades.
La iniciativa Trabajadores Esenciales, Protecciones Esenciales de la División de Horas y Salarios se ha centrado en llegar a trabajadores que realizan trabajos esenciales, enfocándose especialmente en trabajadores mal pagados, mujeres, inmigrantes y trabajadores de color.
Invertir en Mujeres Trabajadoras
Nuestro programa de subvenciones para Mujeres en Aprendizajes y Ocupaciones No Tradicionales (WANTO) está fortaleciendo el camino hacia buenos empleos al invertir en programas de pre-aprendizajes y otros esfuerzos de capacitación que pueden conectar a poblaciones históricamente desatendidas con carreras lucrativas.
Nuestra Oficina de Asuntos Laborales Internacionales ha procesado varias subvenciones para ayudar a mejorar las condiciones de trabajo de mujeres marginalizadas en otros países, brindando incluso a mujeres capacitación basada en habilidades, empoderando para  obtener representación en liderazgo sindical, combatiendo violencia y acoso en base a género, y creando más oportunidades para la participación de las mujeres en la economía.
Estos son sólo algunos de los esfuerzos sobre los nos entusiasma estar trabajando. Como siempre, nuestro objetivo sigue siendo la mejora de la vida de los trabajadores, los solicitantes de empleo y los jubilados de Estados Unidos, y la creación de una economía más resistente y equitativa.
Obtenga más información sobre nuestros esfuerzos para mejorar las condiciones laborales y oportunidades económicas para todos los trabajadores, mejorando el bienestar de comunidades poco atendidas, marginadas y excluidas.
Alaysia Hackett es la oficial jefe de diversidad y equidad del Departamento de Trabajo de EE.UU.