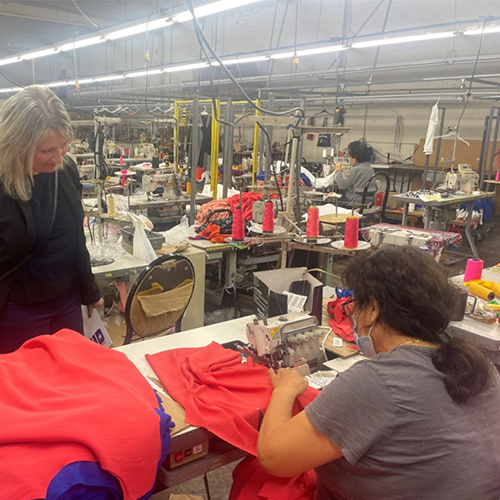 En Español
With L.A. Fashion Week just around the corner and spring designs filling the racks at your favorite stores, you will need more than cash in your wallet to make good shopping choices. You also need information. Here are some facts: Garment workers who make the looks you love are paid some of the lowest wages in the nation, sometimes as little as $1.58 per hour – well below the legal minimum wage. These workers produce clothing for many retailers you know, including Lulus, Dillard's, Bombshell Sportswear, Nieman Marcus, Stitch Fix, Socialite, Nordstrom, Von Maul, and Amazon, but many are criminally underpaid.   
Garment Survey Results 
Last year the U.S. Department of Labor Wage and Hour Division's Southern California offices embarked on an ambitious plan to investigate several contractors in the region's large garment industry. We found that 80% of the contractors were violating minimum wage and overtime laws and we recovered over $892,000 in back wages and damages. We found one contractor paying garment employees $1.58 per hour in a state where the minimum wage was $15. 
Consumers Have a Real Choice to Make 
"Fast fashion" refers to trendy clothing that is quickly and cheaply produced to meet ever-changing consumer demand. Fast fashion garment makers copy ideas from high-end or celebrity fashion designers to sell the latest styles at cheaper prices.   
These garment producers are caught in the never-ending cycle to rapidly produce the newest clothes at lowest cost for consumers. As a result, many garment producers, manufacturers and retailers sacrifice workers' wages to ensure that they can make a profit. So, what can you do about it? Investing in more expensive pieces may be costly in the short term, but the higher quality means it won't be replaced as quickly, and you can't put a price on the benefits of ensuring fair wages for your fellow humans.  
Low Wage Garment Workers Are Our Priority 
The Wage and Hour Division will not tolerate wage theft in the fashion industry. We are committed to protecting the workplace rights of garment workers and ensuring they receive the full wages they are due. We will use all available enforcement tools to hold manufacturers and contractors accountable when they violate those rights. The exploitation of workers is never an acceptable price to pay for the clothes on your back.  
We encourage workers, advocates and stakeholders in the garment industry to call us at 1-866-487-9243 to report wage violations. We can answer questions in over 200 languages. Visit dol.gov/agencies/whd or contact the nearest Wage and Hour Division office for assistance.  
Ruben Rosalez is the regional administrator in the western region for the Department of Labor's Wage and Hour Division. Follow the division on Twitter at @WHD_DOL and LinkedIn. 
La Explotación de los Trabajadores de la Confección: Enhebrando la Aguja en la Moda Rápida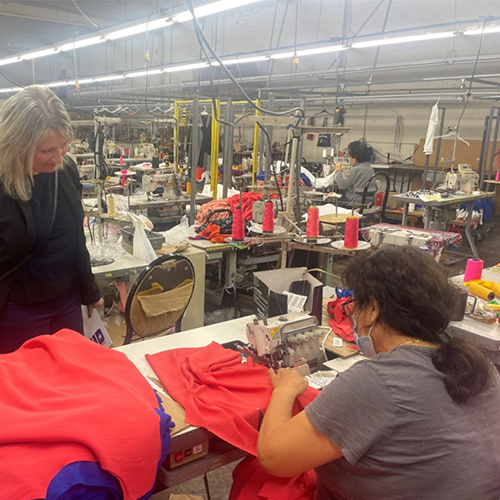 Con la Semana de la Moda de Los Ángeles a la vuelta de la esquina y los diseños de primavera llenando los estantes de sus tiendas favoritas, necesitará más que dinero en efectivo en su billetera para tomar buenas decisiones de compra. También necesita información. Aquí hay algunos hechos: los trabajadores de la confección que hacen los diseños que amas reciben algunos de los salarios más bajos de la nación, a veces tan poco como $1.58 por hora, muy por debajo del salario mínimo legal. Estos trabajadores producen ropa para muchos minoristas que conoces, incluidos Lulus, Dillard's, Bombshell Sportswear, Nieman Marcus, Stitch Fix, Socialite, Nordstrom, Von Maul y Amazon, pero muchos están criminalmente mal pagados.
Resultados de la Encuesta de Prendas de Vestir
El año pasado, las oficinas de la División de Horas y Salarios del Departamento de Trabajo de los Estados Unidos en el sur de California se embarcaron en un ambicioso plan para investigar a varios contratistas en la gran industria de la confección de la región. Descubrimos que el 80% de los contratistas estaban violando las leyes de salario mínimo y horas extras y recuperamos más de $892,000 en salarios atrasados y daños. Encontramos un contratista que pagaba a los empleados de prendas de vestir $1.58 por hora en un estado donde el salario mínimo era de $15.
Los Consumidores Tienen que Tomar una Decisión Real
"Moda rápida" se refiere a la ropa de moda que se produce de forma rápida y barata para satisfacer la demanda cambiante de los consumidores. Los fabricantes de prendas de moda rápida copian ideas de diseñadores de moda de alta gama o famosos para vender los últimos estilos a precios más baratos.
Estos productores de prendas de vestir están atrapados en el ciclo interminable para producir rápidamente la ropa más nueva al menor costo para los consumidores. Como resultado, muchos productores de prendas de vestir, fabricantes y minoristas sacrifican los salarios de los trabajadores para garantizar que puedan obtener ganancias. Entonces, ¿qué puedes hacer al respecto? Invertir en piezas más caras puede ser costoso a corto plazo, pero la mayor calidad significa que no se reemplazará tan rápidamente, y no puede poner un precio a los beneficios de garantizar salarios justos para sus semejantes.
Los Trabajadores de la Confección de Bajos Salarios son Nuestra Prioridad
La División de Horas y Salarios no tolerará el robo de salarios en la industria de la moda. Estamos comprometidos a proteger los derechos laborales de los trabajadores de la confección y garantizar que reciban el salario completo que se les debe. Utilizaremos todas las herramientas de cumplimiento disponibles para responsabilizar a los fabricantes y contratistas cuando violen esos derechos. La explotación de los trabajadores nunca es un precio aceptable para pagar por la ropa que llevas puesta.
Alentamos a los trabajadores, defensores y partes interesadas en la industria de la confección a llamarnos al 1-866-487-9243 para reportar violaciones salariales. Podemos responder preguntas en más de 200 idiomas. Visite dol.gov/agencies/whd o comuníquese con la oficina de la División de Horas y Salarios más cercana para obtener ayuda.
Rubén Rosalez es el administrador regional en la región occidental de la División de Horas y Salarios del Departamento de Trabajo. Siga a la división en Twitter en @WHD_DOL y LinkedIn.