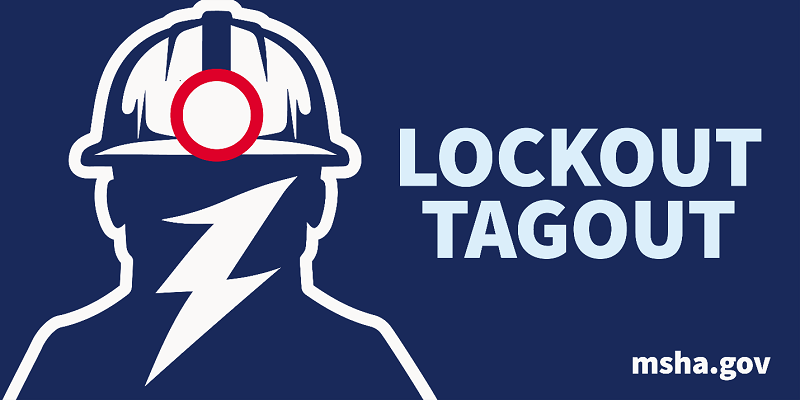 May is National Electrical Safety Month. Electricity is a serious hazard that exposes miners to dangers such as electric shock, electrocution, fires and explosions. In 2023 alone, three miners have already lost their lives in electrical accidents, many of which could have been prevented with safety precautions. Implementing lockout-tagout measures is essential to prevent further accidents and ensure miner safety.
Lockout-tagout procedures are intended to isolate all energy sources before performing any electrical or mechanical work. This protects miners against uncontrolled energy release. Following lockout-tagout guidelines will help you save lives and avoid accidents. These procedures include:
Stop the equipment, disconnect power and lock the switch.
Attach your identifying tag.
With miners safely away, attempt to start the equipment or test for power. Remember, it's not locked out until you've tried it out.
The Mine Safety and Health Administration's lockout-tagout standards specifically address electrical and mechanical hazards in mining environments. These standards include regulations for distribution boxes, work on electrically powered equipment, work on power circuits and procedures during repairs or maintenance.
To establish an effective lock-tag-try program, consider these best practices:
1. If the equipment is in operation shut it down by normal stopping procedure. 
2. Use lock-tag-try when:
Removing or bypassing safety devices for maintenance, repair or cleaning.
Working near moving machinery parts or release of stored energy.
Entering electrical energy or hazardous substances danger zones.
3. Identify and control stored energy, such as mechanical, electrical, hydraulic, pneumatic, gravity, chemical or thermal energy.
4. Identify the appropriate lockout locations, disconnecting main or circuit power sources instead of relying on on/off switches, interlocks, emergency stops, or selector switches. 
5. Develop machine-specific lockout procedures tailored to each piece of equipment.
6. Each person should use their personal, unique lock and tag.
7. For complex jobs involving multiple miners, equipment or energy sources, establish clearly- defined group lockout procedures.
8. Each individual must affix and remove their own lock and tag. Electricians should test and verify de-energized electrical circuits, while others should ensure mechanical equipment is isolated by attempting to start or operate it.
9. Reserve locks solely for lockout purposes and avoid using them for securing toolboxes or lockers.
10. After service and or repair is finished check to make sure all miners are clear and all tools have been removed from the equipment before removing locks. 
11. Employers should provide comprehensive training to all miners on proper lockout procedures and electrical safety.
12. Address contractor responsibilities and establish procedures for their compliance.
13. Regularly review and update your lockout-tagout program, especially when new equipment or procedures are introduced. Retrain miners as necessary.
Let's make National Electrical Safety Month a time of renewed commitment to preventing accidents and creating a safer working environment for all mine workers.
For more comprehensive electrical safety practices, we encourage you to read our training materials and other valuable information on electrical safety at msha.gov. 
William B Clark – Dallas District Safety Specialist Supervisor is a mine inspector with the Mine Safety and Health Administration
Follow the Mine Safety and Health Administration on Twitter at @MSHA_DOL and on Facebook.