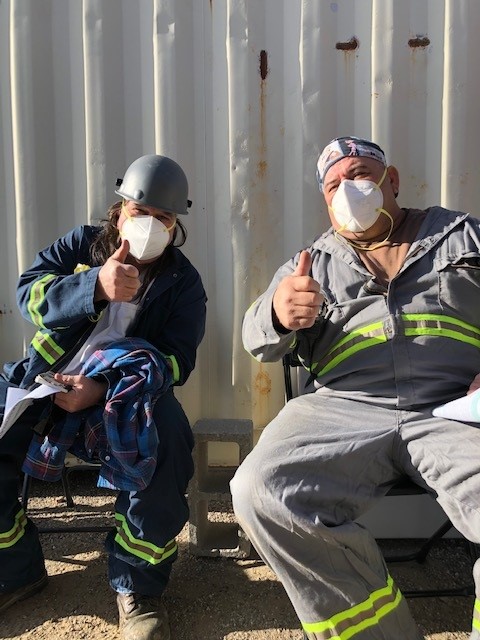 August is National Immunization Awareness Month. This annual observance highlights the efforts of MSHA's Miner Vaccination Outreach Program to protect miners against COVID-19 through vaccination. 
The Miner Vaccination Outreach Program organizes voluntary, free vaccination clinics in mining communities and provides educational outreach regarding vaccine safety and efficacy. 
Participation in the  program is completely voluntary and free for qualified mine operators. Vaccination outreach program representatives collaborate with industry stakeholders to identify convenient locations, coordinate with health professionals to provide vaccine administration services, and develop communication programs to address the community's questions and concerns. 
The Miner Vaccination Outreach Program started in Kentucky and Arizona. The program is now available in other locations, subject to staffing availability in those areas. 
Free vaccine clinics have been held at mine sites, industry events, union halls, training centers and mine rescue contests.  
"I really appreciate MSHA's efforts to keep the mining industry healthy," said Tim Fugate, director of the Kentucky Division of Mine Safety. "It's a reflection of MSHA's commitment to the mining community." 
This week at the National Mine Rescue, First Aid, Bench and Technician Team Contest in Lexington, KY, the program will provide free take-home COVID test kits, free N95 masks and a free walk-in vaccine/booster shot clinic for the event participants. 
Because of the nature of the tasks they perform, our nation's miners face daily risks -- including the spread of COVID-19. MSHA created the Miner Vaccination Outreach Program to respond to this situation and support the mining industry in keeping it workforce healthy and safe. 
Click here to send a message to MSHA to request more information about the vaccination program. 
Jeannette Galanis is MSHA's Deputy Assistant Secretary for Policy.