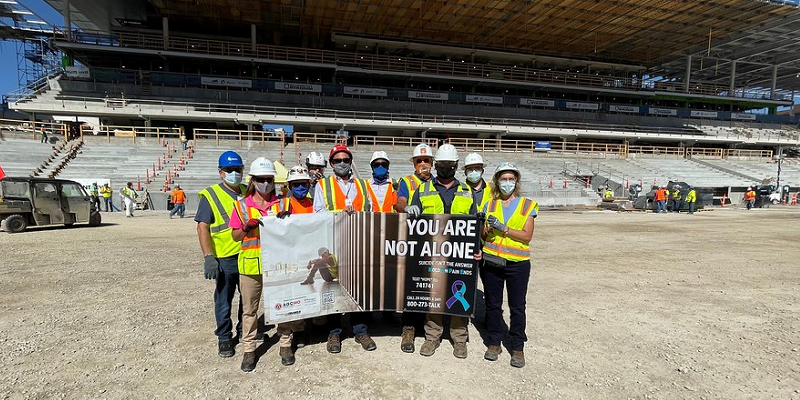 Work-related stress can severely impact mental health, and without proper support, people struggling with mental health issues may turn to substance abuse and even suicide. And like other deadly workplace hazards, suicides can be prevented. During Suicide Prevention Month, we're getting the word out about the importance of supporting workers' mental health. 
To assist workers in an industry with one of the nation's highest occupational suicide rates, the Occupational Safety and Health Administration has joined a task force of construction industry partners, unions and educators to raise awareness of the work stresses seen as the causes of depression and the thoughts and acts of suicide among construction workers.
During Construction Suicide Prevention Week, the task force is calling on construction industry employers, trade groups and other stakeholders to join OSHA's Suicide Prevention Safety Stand-Down, Sept. 5-9, 2022. This week-long event helps raise awareness of the unique mental health challenges construction workers face by asking employers to pause work for a moment to share information and resources, learn about the warning signs, and urge employees to seek help if needed. 
Construction workers face uncertain seasonal work; remote work and job travel that keeps workers away from home and support systems; long, hard days and completion schedules; and the risks of serious injuries on the job. These stresses can severely affect mental health and contribute to anxiety, depression, substance abuse and, in some cases, suicide if left unchecked. 
The pandemic has only worsened the situation. In October 2021, the CDC reported a considerable increase in symptoms of anxiety disorder and depressive disorder based on a survey of the U.S. population.  
Moved by their concern for this growing problem, a group of industry volunteers joined in 2020 to launch the first Suicide Prevention Week for construction workers. In 2021, more than 68,000 workers in 43 states registered to participate in Construction Suicide Prevention Week, managed by a task force comprised of OSHA, Associated General Contractors, The Builders Association, leading construction companies and labor unions.   
Suicide prevention has become personal for many construction industry leaders participating in safety stand downs during Construction Suicide Prevention Week. For example, the local Kansas City-area Carpenters Union has lost nine workers to suicide this year and is imploring its members to participate and talk about this deadly threat. For Clarkson Construction Company in Kansas City, their safety stand-down will include the personal story of one of their workers whose suicidal thoughts were revealed during a disciplinary meeting with his supervisor. The supervisor found that the disciplinary issues were symptoms of the young father's struggling mental health, and the company was able to get help for him through their employee assistance program.   
If you or someone you know is struggling with thoughts of suicide, you can call, text or chat the 988 Suicide & Crisis Lifeline in English or Spanish. Available 24 hours a day, 7 days a week, the 998 lifeline is a national network that provides free and confidential emotional support. 
Editor's note: Learn more about OSHA's mental health and crisis resources, and watch a video message on preventing suicides from Assistant Secretary for Occupational Safety and Health Doug Parker.
Karena Lorek is the OSHA area director in Kansas City, Missouri. Follow OSHA on Twitter at @OSHA_DOL.