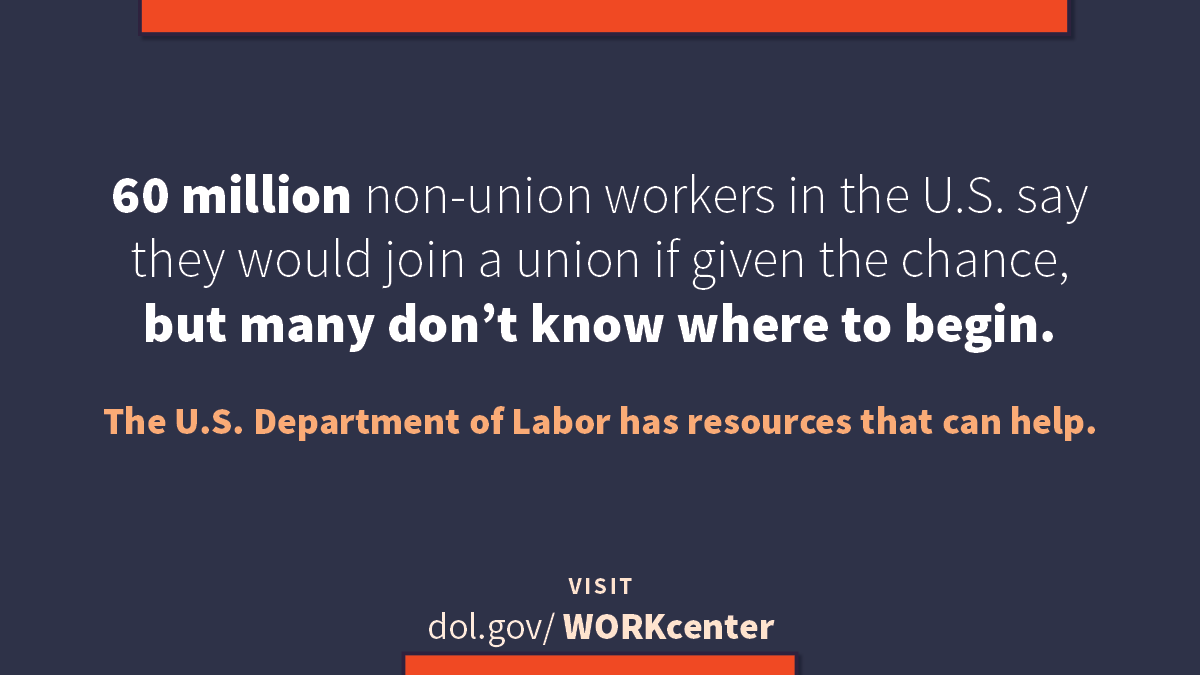 We are witnessing an exciting and inspiring groundswell in worker organizing across the country. Workers are organizing across a wide range of industries and workplaces—including workers such as nurses, digital journalists, museum workers, baristas, retail workers and many more. All across the country, thousands of workers are coming together to win a collective voice at their jobs and improve their working conditions.   
As public interest lawyer Christine Ball-Blakely puts it, "I recently helped unionize my organization in an effort to create a more equitable, respectful, and democratic work environment." 
Airline worker Nicole Fears describes the impact of having a union this way: "As an ovarian cancer survivor, being a part of the union when cancer hit, I had insurance, and my family stayed afloat."   
Millions of workers are interested in organizing a union—but many don't know where to begin 
As proof of this surge of interest in worker organizing, petitions for union representation elections in the private sector are up 58% at the National Labor Relations Board over the same period last year, and petitions are also higher at the Federal Labor Relations Authority and National Mediation Board, which handle union representation in the federal sector and airline and railway sectors. 
Additionally, public support for unions is 71% -- higher than it has been in decades.  60 million non-union workers say they want a union at their workplace, and support for unions is highest among young workers, women workers, and workers of color. Yet only about 10 percent of workers say they have the information they need on how to form one. 
A new website from the Department of Labor is meeting the demand for information 
To address this information gap, leading into Labor Day, the Department of Labor launched a new website aimed at getting workers the information they want and need on unions and collective bargaining.  The Worker Organizing Resource and Knowledge (WORK) Center – www.dol.gov/workcenter -- is the first of its kind online resource center, with information on unions, the union advantage, and collective bargaining.  The WORK Center also features stories from workers, like the stories from Nicole Fears and Christine Ball-Blakely above, on how having a union has helped them and their families, as well as examples of successful labor-management partnerships, where workers and employers have joined together to tackle workplace issues.   
The WORK Center is a key Department of Labor deliverable for the White House Task Force on Worker Organizing and Empowerment, chaired by Vice President Kamala Harris and vice-chaired by Secretary of Labor Marty Walsh, and it is the centerpiece of a campaign being led by the Department to help workers understand and exercise their right to form a union. As part of this campaign, we developed a toolkit with downloadable resources with important information on workers' organizing and bargaining rights. 
Furthering the department's mission while meeting the moment 
Getting information to workers on their organizing and bargaining rights is important to the department's success in fulfilling its mission to protect the wages, health and safety, and livelihoods of America's workers.  Workers with the protection of a union contract feel safer speaking up about violations of their rights, which is essential to the Department's ability to enforce the wage and hour, health and safety, and other laws under its jurisdiction.  Empowered workers help the Department do its job, so we are making it a priority to get workers the information they need about their rights, and taking strong action if workers face retaliation when exercising their rights. 
We invite you to check out the WORK Center and the Know Your Rights Toolkit and share these resources with others.  Send us your union story or your labor-management partnership story.  Give us your feedback at workcenter@dol.gov.  We will keep building the WORK Center and adding information for workers to meet this historic moment. 
Lynn Rhinehart is senior counselor to Secretary Walsh at the U.S. Department of Labor.