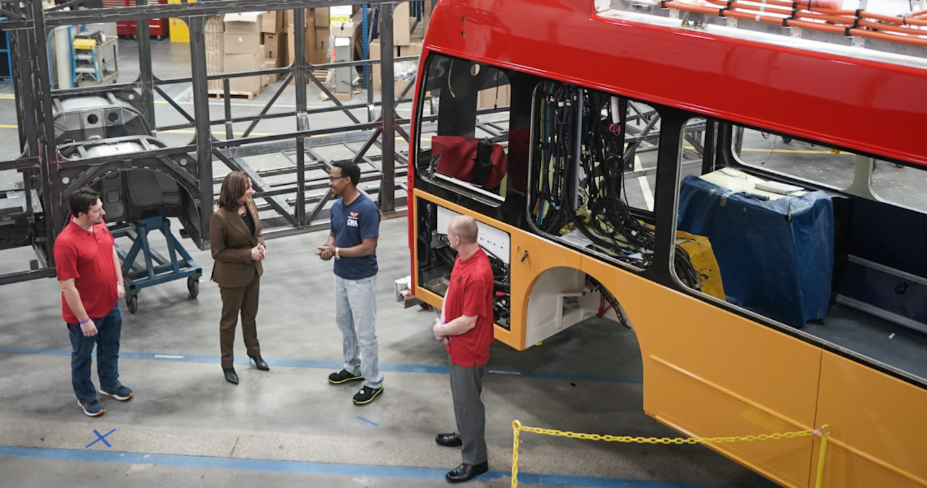 As part of our neutrality series, we are highlighting companies that are choosing to remain neutral when their workers signal an interest in forming a union. This can begin a collaborative labor-management relationship, building a stronger business and workforce. This blog post is drawn from our conversations with New Flyer and worker representatives.
New Flyer is the largest heavy-duty public transit bus manufacturer in North America, and their electric vehicle business is helping move public transit toward a greener future. With plants across the country, New Flyer continues to grow and plans to hire hundreds of new workers in 2023.
A year ago, New Flyer chose neutrality during union organizing at all of its locations and agreed to arbitration as a backstop measure if the parties need help reaching a first contract. They already had a collective bargaining relationship with the Communications Workers of America (CWA) and the United Steelworkers (USW) at some of their facilities, and this decision allowed them to formalize and normalize the process across their various locations.
For workers, their employer's decision to remain neutral means that they can exercise their choice to form a union, confident that they will not be subjected to coercion, intimidation, or misinformation. They can also avoid being subjected to retaliation and a drawn-out election and bargaining process that can destroy relationships between management and workers and fray the bonds between coworkers.
New Flyer also benefits. Respecting their workers' choice enables them to build a positive workplace culture where workers and management are working together to build a stronger company, while avoiding work stoppages and creating clear processes for all. If workers choose representation, management can engage productively with the union and determine what is important to their workers in terms of wages and benefits. New Flyer hopes to be able to retain, attract, and invest in their workforce to build an excellent product. New Flyer recognizes that it is essential to listen to workers, because they underpin the success of the business. Respecting workers' choice also mitigates business risks: not having enough workers, turnover, and work stoppages can all hurt the bottom line.
This positive relationship between workers and management is also helping New Flyer overcome new challenges. For example, hiring has become more difficult as they seek to expand. Unions can be partners in training and recruitment, and can help ensure that the workforce reflects the local community.
The collaboration between New Flyer and its workers demonstrates that companies working at the frontier of modern manufacturing can benefit economically from relationships with labor. This collaboration does not hurt the bottom line: instead, it sets the company on a path to grow, and confront new challenges in partnership with workers.
Cassandra Robertson is acting deputy assistant secretary for research and evaluation in the Office of the Assistant Secretary for Policy.
Trudy Rebert is a policy advisor in the Office of the Assistant Secretary for Policy.
Lynn Rhinehart is a senior counselor in the Office of the Secretary.