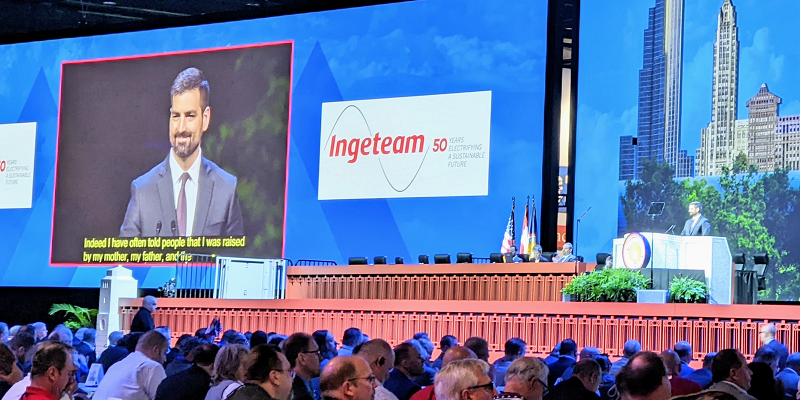 As a result of the Biden-Harris administration's investments in clean energy and the Labor Department's efforts to improve and expand apprenticeships, the IBEW and Ingeteam team in Milwaukee, Wisconsin, are developing wind turbine repair and assembly technician apprenticeship programs. We sat down with Garan Chivinski, human resources manager at Ingeteam, and Mike Bruening, assistant business manager for IBEW Local 2150, to share how their strong labor-management partnership is helping create good jobs for Milwaukee-based workers in the clean energy transition.
1. Tell us about yourself and your organization.
Garan Chivinski – Ingeteam is a Spanish company. We came to the United States 10 years ago during the Obama administration after securing clean-tech manufacturing tax credits. Our facility in Milwaukee is 140,000 sq ft and the only place in the United States that builds and repairs wind turbine generators. We currently produce 40% of wind turbines in the United States. We are excited by the level of federal investment into clean energy President Biden secured through the Inflation Reduction Act and Bipartisan Infrastructure Law, and we are now looking to expand into electric vehicle charging.
Mike Bruening – IBEW Local 2150 represents 5,100 members in building transmission, utilities and manufacturing. We organized and represented the members at Ingeteam to negotiate a first contract and became very proud partners with Ingeteam, Garan and the whole staff here. We take pride in our strong relationship with the company.
2. What was the motivation that brought each party to the table?
Mike – In 2018, we launched an organizing campaign at Ingeteam in response to workers concerns over wage increases. We organized successfully with 80-90% of workers voting to support unionization. We are not adversarial. That's what makes my relationship with Garan, and Ingeteam, different. They recognize that what's best for my members is best for the company. If a union-management relationship works correctly, we share a common goal – I want my members taken care of and to make the business the best and most profitable we can – then they can afford to pay good raises and take care of benefits.
Garan – I wasn't here for the first negotiation in 2018, but since I started I have seen first-hand the benefits of having a strong labor-management partnership in place. In corporate America, especially at the middle management level, we don't always have the resources we need to do what we want to do and IBEW and Mike have been a force multiplier, particularly in growing our workforce. We rely on the union's expertise in helping us recruit and prepare workers for higher-skilled jobs and their relationships with the state Department of Workforce Development, and community partners like BlueGreen Alliance, is invaluable – we couldn't imagine having a better partner.
3. How was conflict navigated throughout the process?
Mike – As I said before, our first negotiation wasn't without its challenges. But the longer we engaged at the bargaining table, the easier it became to work through our differences, identify areas of agreement and secure mutual wins. The last contract we negotiated was a testament to the dedication of the partnership we've created. Once Garan jumped on board, his openness to strive for the common good took our relationship to the next level. For example, when Ingeteam was coming up with a plan on how to comply with Inflation Reduction Act and Bipartisan Infrastructure Law requirements that products are sourced and made in America, they engaged us in developing that plan – that's the kind of collaboration we work on and emblematic of the mutual respect we have.
Garan – To follow up on Mike's point about our collaboration, I recently had the honor of being invited by Mike to speak at IBEW's quadrennial convention in front of 4,000 IBEW members. The incredible part of my participation in that conference is that I spoke on the same day that President Biden addressed the room. It was inspiring to hear him call on IBEW to help achieve his vision of rapidly expanding the clean energy economy and create good-quality jobs for workers. We are proud of our strong relationship with IBEW and especially proud that we can serve as a model to other employers looking to take advantage of the clean energy transition in a way that puts workers first.
4. Can you share more about how you're working together to launch two new registered apprenticeships?
Mike – Last October, after Secretary Walsh's visit to our facility, Garan and a few others from Ingeteam asked if I could help address an issue they were having. They shared that with the increased investment and deployment of wind turbines, demand for domestic repair services has risen dramatically and there was a need to rapidly expand Ingeteam's workforce. We worked together with Ingeteam to start two brand new apprenticeship programs focused on repair and assembly work so we can work with Ingeteam to recruit and train workers. We are particularly excited to work with Ingeteam on this because these apprenticeship programs will help create equitable pathways to good-paying jobs for Milwaukee residents and help Ingeteam to meet its needs.
5. What advice would you give others who are looking into creating a labor-management partnership?
Garan – My industry is changing and there is a new generation of HR professionals whose minds have opened up and want to take a different approach to this. To anyone who is engaging with unions, especially for the first time, my biggest advice is to approach your conversations with an open heart and an open mind. You might find a good partner who shares many of your goals.
Mike – My advice is that it's critical for unions to put themselves in the business' shoes and identify ways they can be an ally to the business for the sake of reaching the goals of your members.
John Laadt is an advisor for infrastructure and climate engagement in the Office of the Secretary at the U.S. Department of Labor.