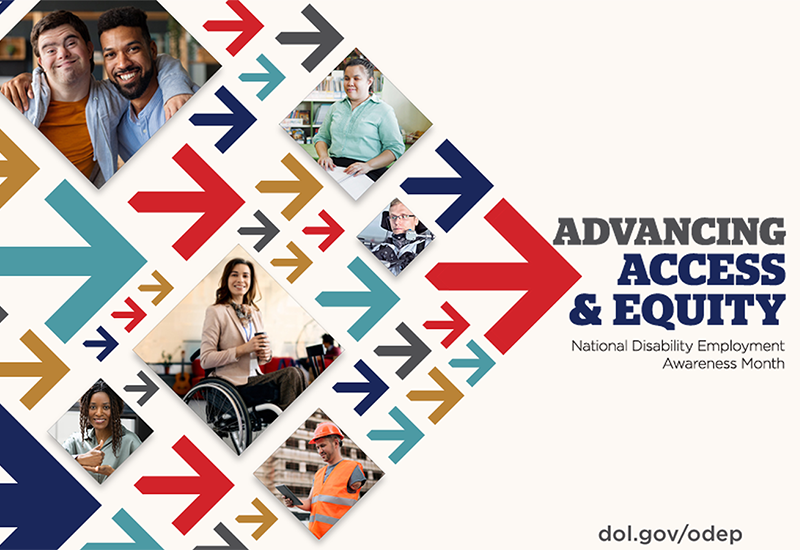 October is National Disability Employment Awareness Month (NDEAM), where we honor the skills of workers with disabilities who contribute to our nation's workplaces and economy. We also recommit ourselves to ensuring they have equal opportunity to prepare for and succeed in employment—and on this front, we are encouraged by recent trends.
In August 2021, the employment-population ratio* for disabled people hit 19.2%, surpassing its pre-pandemic level of 19.1% in February 2020. In August 2023, it was 23.0%—the highest on record. This is likely in part due to pandemic-prompted changes such as greater access to telework and other workplace flexibilities, which may be opening new doors for many disabled workers. But, despite this positive trend, an unacceptable employment gap remains, and until it closes, we have work to do.
It's about access, and it's about equity—two goals that form the foundation for our work at the department's Office of Disability Employment Policy (ODEP), every month of every year. This year has been a particularly reflective one, though, as we celebrate the 50th anniversary of the Rehabilitation Act of 1973. The Rehab Act was the first federal law to address civil rights for people with disabilities, including in employment, and it set the stage for the Americans with Disabilities Act (ADA) of 1990. Today, the ADA underpins everything we do at ODEP.
In the lead-up to NDEAM this year, we've been exploring the Rehab Act's impact. As part of this, we've published interviews with various leaders about the law's impact on disabled people. We also developed a video explaining its various sections, which together affect millions of people across the nation every day, even if they may not realize it.
A common theme that emerged while reflecting on NDEAM is that advancing access and equity for people with disabilities—or any historically underserved population—necessitates adapting to continual changes, many of which were unforeseen when the Rehab Act, or even the ADA, was passed. For progress to occur, we must focus on the workforce as it is today. This means supporting workers with mental health conditions, like me, and fostering mental health-friendly workplaces. It means promoting accessible workplace technology. It means ensuring disabled youth can prepare for and succeed in employment. And very importantly, it means advancing competitive integrated employment, an important issue on which we recently announced plans to actively engage with stakeholders across the nation.
Of course, we must understand where the challenges and opportunities lie not just today, but also tomorrow. With the job opportunities being created by the Biden-Harris Administration's historic investments in the workforce, for example, with the Bipartisan Infrastructure Bill, this means examining the data of people with disabilities in the skilled trades, with specific breakdowns for different occupational categories.
This data gives us a better idea of the landscape so we can both meet our nation's workforce needs and ensure equitable opportunities for economic advancement for all workers. On that note, we've also been looking at the employment of disabled people in skilled trades from various populations, examining how the data differs for women with disabilities, Black workers with disabilities, Asian-American, Native Hawaiian and Pacific Islanders with disabilities, and Hispanic workers with disabilities.
This National Disability Employment Awareness Month, we honor the promise of the Rehab Act and the ADA and pledge to deliver on it in a way that is equitable in reach and impact and considers the lived experiences of all workers with disabilities, including those who may also belong to other marginalized groups. Again, it's about advancing access and equity, for all workers, for the next 50 years and beyond.
* The employment-population ratio is those employed divided by the entire population (civilian, non-institutionalized population).

Anupa Iyer Geevarghese is the Chief of Staff for the Office of Disability Employment Policy