Creating Apprenticeship Programs that Work for Everyone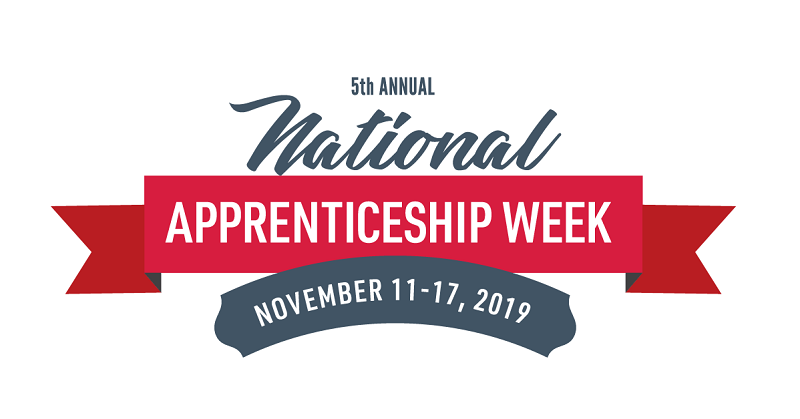 Editor's note: This was first published on the Social Security Administration's Ticket to Work Blog.
In today's thriving economy, there are more than 7 million job openings in the United States that cannot be filled due to the growing skills gap that exists in the workforce. For those of us at the U.S. Department of Labor's Office of Disability Employment Policy (ODEP), those numbers point to opportunity: to help the 450,000 job seekers with disabilities learn in-demand skills and connect them with quality career opportunities.
Inclusive apprenticeships
One way we are doing this is by supporting apprenticeships for people with disabilities, during National Apprenticeship Week (November 11-17) and all year round.
Apprenticeships are industry-driven, high-quality career pathways where companies can develop and prepare their future workforce, and individuals can obtain paid work experience, classroom instruction, and a portable, nationally-recognized credential. Apprenticeships are jobs that combine on-the-job learning with job-related classroom training, so apprentices start getting paid on day one and receive pay increases as they learn new skills and take on more responsibilities. The average starting wage for workers who complete an apprenticeship is $70,000 per year.
Apprenticeships are a priority for President Trump, who signed an Executive Order in 2017 directing the Labor Department to promote the development of more apprenticeship programs to help Americans gain the skills needed to fill the jobs of the 21st century. A core focus of this work is our commitment to ensuring that apprenticeships are accessible to all, including people with disabilities, whether they're joining the workforce for the first time or rejoining it after time away.
Three examples of Labor Department-funded models that are helping people with disabilities to participate in apprenticeship programs include:
FASTPORT, a Department apprenticeship partner who — in conjunction with the National Association of Publicly Funded Truck Driving Schools — is sponsoring a pilot program to provide American Sign Language training to Commercial Truck Driving Instructors at the Amarillo College Truck Driving Academy in Texas. The program is designed to offer more opportunities for deaf students to thrive in transportation jobs.
Shenandoah Valley Workforce Development Board, which is expanding apprenticeships throughout Virginia. The organization strengthened its existing partnership with a leading vocational rehabilitation center to support a manufacturing pre-apprenticeship program for individuals with disabilities. Pre-apprenticeships are programs that prepare individuals to enter and succeed in an apprenticeship program.
Apprenticeship Inclusion Models initiative, which is increasing pathways for youth and adults with disabilities into high-demand, lucrative careers by developing and testing new recruitment and retention strategies with employers, labor, and apprenticeship programs.
These programs and many others are linking more and more people with disabilities to quality apprenticeship programs that lay the foundation for rewarding, long-term careers.
Learn more about apprenticeships
To learn more about apprenticeship programs, check out the following resources:
We can all agree that valuable job-training programs like apprenticeships should be open to all workers, including those with disabilities. So this National Apprenticeship Week and all year long, we'll be reaffirming our commitment to expanding inclusive apprenticeship opportunities and creating new pathways to quality employment.
Jennifer Sheehy is the Deputy Assistant Secretary of Labor for Disability Employment Policy in the U.S. Department of Labor's Office of Disability Employment Policy.