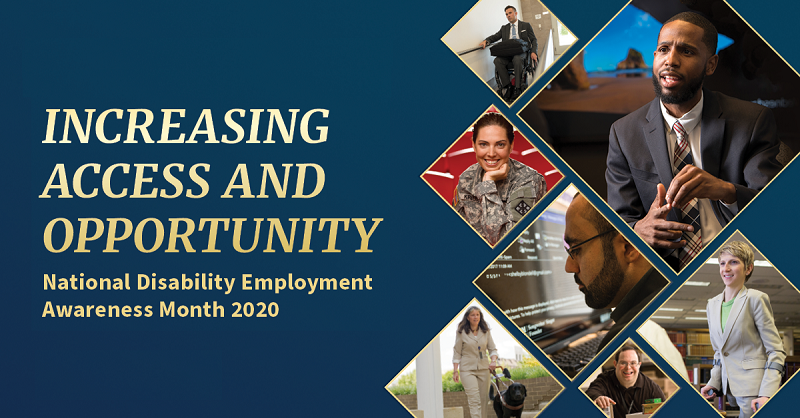 October is National Disability Employment Awareness Month (NDEAM), and this year's observance is twice as significant. It marks both 75 years since NDEAM originated and brings to a close the Department's yearlong commemoration of the 30th anniversary of the Americans with Disabilities Act (ADA).
Today, our workplaces look very different than they did in 1945 and 1990, in ways few could have imagined. The leaders behind NDEAM and the ADA clearly understood the ongoing importance of this year's theme "Increasing Access and Opportunity."
A whole generation of Americans has grown up under the ADA. Their entry into the workforce coincided with dramatic changes in how we access and perform work across occupations and industries. Their perspectives have served as the spark for innovations that enhance life for everyone.
People use these innovations for different reasons, but for many with disabilities, they help "level the playing field." I'm reminded of this each time I use speech-to-text software (which I am doing right now), or my trackball, which works better for me than a touchpad or mouse.
Sometimes the field is level from the start thanks to universal design. I previously used an external microphone for voice-to-text capability, but now the software is built into my laptop, so there is no need for an "add on." My smartphone also came with this capability right out of the box.
Like most of my colleagues, I have been working remotely since March and am now more fluent with virtual video platforms. My remote setup is doing so well that these tools will allow me to continue working at home for other reasons, too, such as during inclement weather. They also may make the difference between working or not for a person who doesn't drive or live in a community with accessible transportation.
In the future, new and emerging technologies — autonomous vehicles, artificial intelligence, extended reality and more — will continue to transform how and where we work. If accessible, they also have the power to increase access and opportunity for more people to work. That's why, through our Partnership on Employment & Accessible Technology (PEAT), we are working closely with the technology industry to ensure new tools are accessible to and inclusive of people with disabilities. On this front, PEAT's new Emerging Technology Playbook offers step-by-step guidance based on lessons learned from our partners in the private sector.
We've come a long way since NDEAM was first observed 75 years ago in how we as a nation talk about the employment of people with disabilities, and today we recognize that accessibility is the key to increasing opportunity. During NDEAM 2020, we honor these advancements and commit to building a future that works for all of us.
Jennifer Sheehy is the Deputy Assistant Secretary of Labor for Disability Employment Policy in the U.S. Department of Labor's Office of Disability Employment Policy.