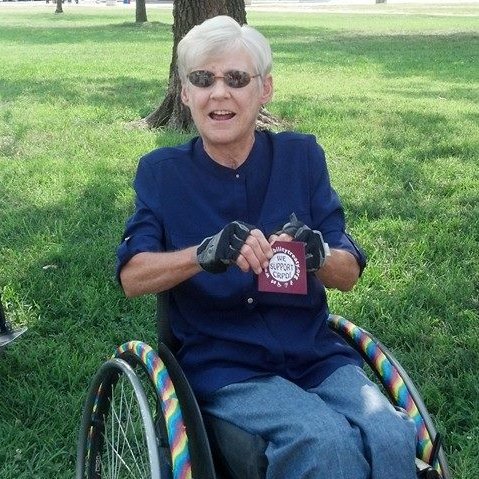 This year marks 20 years since establishing the department's Office of Disability Employment Policy. In honor of this milestone, ODEP Deputy Assistant Secretary Jennifer Sheehy recently talked to Rebecca (Becky) Ogle, who, as executive director of the Presidential Task Force on Employment of Adults with Disabilities, proposed and designed ODEP. The following are highlights from their conversation.
Sheehy: For background, can you share how the task force came to be and its primary purpose?
Ogle: The task force was created by the executive order signed by President Clinton in 1998. We were charged with recommending ways to reduce barriers and deliver on the Americans with Disabilities Act in employment. It was a unique time, and we did a lot in a short period. I decided to take the position after Alexis [Herman – secretary of labor and task force chair] and Tony [Coelho – task force vice chair] assured me that the goal was to truly make change. We had a small budget but phenomenal team of excited, passionate people committed to doing just that — making change.
Sheehy: Among the changes the task force recommended was the formation of what is now ODEP. How did you conclude that such an agency was needed?
Ogle: The task force was going to sunset by design in the executive order, so we knew we had limited time. But we succeeded in getting so much done, like Ticket to Work and the 100,000 federal hires executive order and reframing Schedule A, and we didn't want to lose the momentum. So I thought we need an office, a permanent presence, where they will look at all legislation with a disability lens. The idea was to make sure we, people with disabilities, are always considered from the start. There was some resistance to creating a new agency, but we fought for it. We presented our vision to the powers that be, and the administration supported us. It was a team effort from everyone on the task force.
Sheehy: What are some examples of changes that have occurred in the past 20 years that might not have been possible without the existence of ODEP? Has there been an "ODEP effect"?
Ogle: I think there has. ODEP has done incredible work at the state level, for instance, especially on Employment First. Every time I look up something from my home state of Tennessee, and I see it's an Employment First state, I say, "Way to go ODEP!" I know that ODEP provided critical assistance to state leaders to move the multiple systems forward – to unify and coordinate their efforts and state policy toward Employment First. It shows its influences beyond the federal doorstep. That's so important, because that's where change really takes place, at the state level. But just the presence of the agency, to me, has been the most profound. It has become the leading voice on employment for people with disabilities. It has built a strong foundation for solid work, credible work and meaningful work.
Sheehy: Looking ahead, what do you think the areas of focus need to be?
Ogle: One huge issue is still the lack of data. You can't base policy on anecdotal information. We have made significant strides, like the numbers from the monthly CPS (Current Population Survey), which ODEP was instrumental in establishing in 2009. But there's still a lot more to be done to get better data, understand it better and analyze it better. Mental health is another vital issue. Also, we need to continue to focus on youth. We have to get to kids – and their parents – early and change the messages they're receiving. It's too late after high school. We have to create an environment that helps kids with disabilities imagine all sorts of careers.
Sheehy: On that note, what led you to become a disability advocate? What experiences paved your career path?
Ogle: I came of age at a time when there were no laws protecting me or other kids with disabilities. My mom was my chief advocate – and a pain in my behind! I watched her navigate the school system and advocate on my behalf, and then when it came my time, I did the same for others. I came to Washington in the late 80s and landed at the Spina Bifida Association, which is the condition I was born with. This was in the lead up to the passage of the ADA. So, we were working on that, and we had a blast. There was a feeling of commonality, with people coming in from all across the country to work together and meet with their representatives. It was an experience like none I'd ever had, and later, I felt the same sort of thrill at the task force. I was so lucky to have the opportunity to work with people who worked hard to make sure people with significant disabilities are never an afterthought when it comes to employment policy.