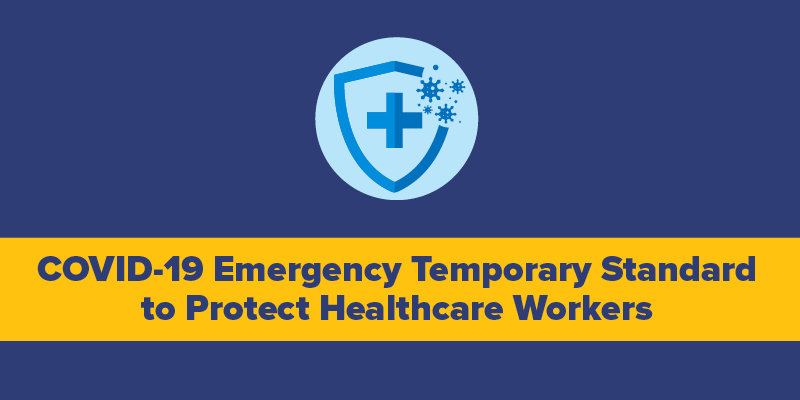 The COVID-19 pandemic has taken more than half a million loved ones and friends from us, including many who contracted the virus while doing their jobs. Here at OSHA, we've taken several important steps to improve protections for workers from contracting COVID-19, including issuing new guidance to businesses and launching a National Emphasis Program on COVID-19 to increase and improve enforcement. In January 2021, President Biden directed OSHA to look into additional safety measures that will help protect workers as we continue to safely re-open our economy.
Over the past several months, the vaccination rates in the U.S. have increased dramatically, surpassing even the most optimistic projections, leading to a decrease in new COVID-19 infections across the nation. The Biden-Harris administration's vaccination efforts, in conjunction with OSHA's guidance, enforcement and compliance assistance efforts, are making a difference. 
On June 10, we took another step to protect workers while we turn the corner on the virus. After extensive analysis of the science, OSHA determined the most impactful action we could take was to issue an emergency temporary standard (or ETS) focused on health care settings, and to update our existing guidance for all other industries. The science tells us that healthcare workers, particularly those who come into regular contact with people either suspected of having or being treated for COVID-19, are most at risk.
Some requirements in the ETS include:
COVID-19 plans: Employers must conduct a hazard assessment of their workplace and those with more than 10 employees must develop and implement a written plan for how they will mitigate COVID-19 in accordance with the ETS. Employers must seek input and involvement from workers and worker representatives in both the hazard assessment and plan development.
Patient screening and management: Employers need to monitor and limit entry access when workers are providing patient care. They also need to screen patients, clients and visitors.
Personal protective equipment (PPE): Workplaces must provide and ensure workers wear a facemask indoors or in a vehicle with other people. As necessary, workplaces must provide and ensure employees use respirators and other PPE to protect them from exposure to people with suspected or confirmed COVID-19.
Physical distancing: Whenever possible, everyone in a workplace must maintain a distance of at least 6 feet when indoors.
Training: All workers must be trained in a language they understand on COVID-19 policies and ways the virus could be transmitted at work. 
Vaccinations: Employers must provide workers with paid time off to get vaccinated and recover from any side effects.
Anti-retaliation: OSHA can cite employers for retaliating against workers who voice concerns about unsafe working conditions related to COVID-19.
The ETS will be effective immediately when it is published in the Federal Register. Employers must comply with most provisions within 14 days and with the remaining provisions within 30 days.
As the pandemic situation improves, OSHA has many ways to update or retract this standard as needed. We will enforce the standard while it is needed and will pull it down when it is no longer necessary.
In addition to the healthcare-focused ETS, OSHA is issuing guidance to help employers and workers in other industries protect unvaccinated workers, with a special emphasis on industries noted for prolonged close contact like meat processing, manufacturing, seafood, and grocery and high-volume retail. OSHA will work with the CDC and other federal partners to continue to update industry-specific guidance going forward.
This pandemic is still evolving, and OSHA will continue to monitor vaccination progress, virus variants, and other factors that will guide our continued efforts to ensure all workers are protected from the virus while they are on the job.
Learn more about the ETS at www.osha.gov/coronavirus/ets.
Jim Frederick is the acting assistant secretary of labor for occupational safety and health. Follow OSHA on Twitter at @OSHA_DOL.