Members of the State Healthcare and Research Employees Union (SHARE), an affiliate to the American Federation of State, County and Municipal Employees (AFSCME), and managers at UMass Memorial Hospital are using the power of partnership to expand quality health care for their patients and provide a better work environment for both front-line workers and managers, all while contributing to the hospital's bottom line.
Since 2017, SHARE and UMass Memorial have worked together to create over 50 Unit-Based Teams (UBTs). UBTs, a form of labor-management partnership, are groups of people who work together to improve processes, identify workflow challenges, and lead efforts to overcome those challenges.
UBTs are led by a frontline worker (the labor co-lead) and a manager (the management co-lead), and each is co-sponsored by a labor co-sponsor (the union organizer for that area) and a management co-sponsor (usually the manager's boss). Unit-based teams can promote collaboration, communication, knowledge sharing, and employee engagement, leading to improved performance, enhanced organizational effectiveness, and increased job satisfaction. Indeed, through their UBTs, SHARE reports that on behalf of its nearly 3,000 staff working at numerous UMass Memorial locations, it has developed projects side-by-side with its management partners, all of which have made measurable improvements in caregiving, culture, morale, quality, and hospital profitability.
According to Will Erickson, SHARE Organizer at UMass Memorial, "UBTs can be credited with making partnerships real for front-line workers and positively changing the way people feel about coming to work." Their initial UBT model focused on the idea of how labor and management could work together to jointly advance the hospital's mission. Since then, the focus has shifted to creating systems and sharing resources that help guide teams to identify problems, research interventions and provide results that positively impact the organization.
To celebrate the teams' accomplishments, over 20 co-led pairs (union and management representatives) presented display boards at a "Partnership Party" showcasing projects that led to improvements across the system.
Some of these results:
Increased the collection of copays from 2% to over 40% in 14 months
Reduced missing lab orders
Improved communication flow among roles in the diabetes clinic
Unit-Based Teams are not a new concept in the healthcare industry. In fact, SHARE and UMass Memorial credits Kaiser Permanente's Labor Management Partnership model as the source of their inspiration. A 2017 People Pulse survey on Unit-Based Team involvement showed that "when union-represented employees are highly involved in UBT activities, they get 29 percent higher scores on measures of their willingness to speak up — a key driver of patient and workplace safety and satisfaction. They also get 33 percent higher scores on questions regarding workplace health and wellness."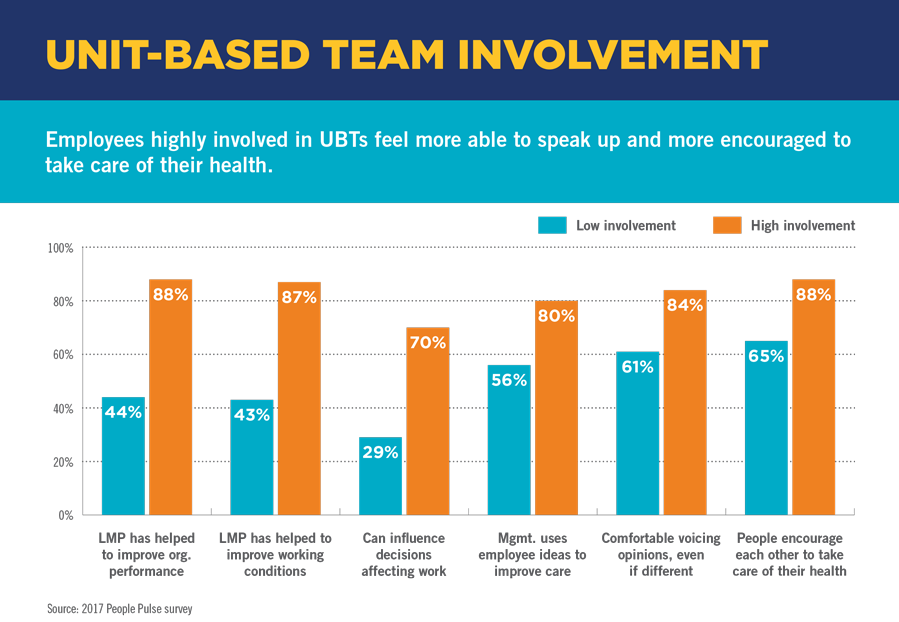 We asked Michael Pacinda, the senior labor and employee relations specialist for UMass Memorial Health, if he thought UBTs have changed how workers feel when they come to work. "Yes," Pacinda said emphatically. "UBTs provide the tools to solve problems, which leaves workers feeling valued, empowered and ready to provide the best care to patients. UBTs crystalize the 'P' in the word Partnership."
For more information on getting started with your own labor-management partnership, visit the Labor-Management Partnership page.
Darnice Marsh is the labor-management partnership coordinator in the Department of Labor's Office of Labor-Management Standards.
Andrew Hasty is a senior advisor on detail with the Department of Labor's Office of Labor-Management Standards.
This blog contains links to information created and maintained by other public and private organizations. Please be aware that the U.S. Dept. of Labor does not control or guarantee the accuracy, relevance, timeliness, or completeness of this outside information. Further, the inclusion of links to particular items is not intended to reflect their importance, nor is it intended to endorse any views expressed or products or services offered by the author of the reference or the organization operating the site on which the reference is maintained.